Nationally ranked and internationally renowned, CCM is a preeminent institution for the performing and media arts. Declared "one of this country's leading conservatories" by the New York Times, CCM provides life-changing experiences within a highly creative and multidisciplinary artistic environment.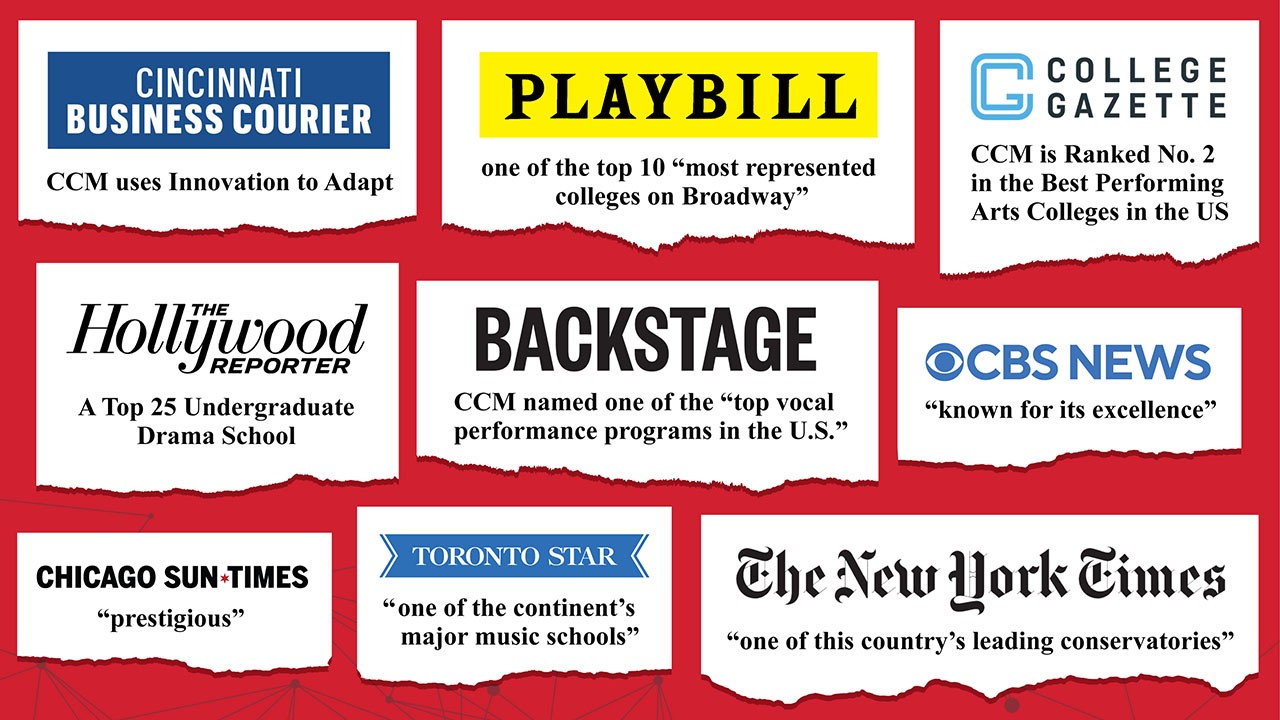 CCM's educational roots date back to 1867, and a solid, visionary instruction has been at its core since that time. The synergy created by housing CCM within a comprehensive public university gives the college its unique character and defines its objective: to educate and inspire the whole artist and scholar for positions on the world's stage.
CCM's faculty and staff and its state-of-the-art facilities make possible the professional training and exceptional education on which CCM believes the future of the arts relies. The school's roster of eminent faculty regularly receives distinguished honors for creative and scholarly work, and its alumni have achieved notable success in the performing and media arts. More than 150 internationally recognized faculty members work with students from around the world, specializing in one of the following areas of study:
Composition/Musicology/Theory
Composition
Musicology
Music Theory
Choral Studies

Commercial Music Production

Jazz Studies
Orchestral Studies
Wind Studies
Strings
Voice
Woodwinds/Brass/Percussion
Theatre Arts, Production and Arts Administration
Acting



Arts Administration
Dance
Musical Theatre
Opera
Theatre Design and Production
At CCM, tomorrow's arts luminaries work with today's industry leaders. More than 150 internationally recognized faculty members work with students from around the world. With a 7:1 student-to-faculty ratio, CCM students receive personalized mentorship from professors who guide their individual scholarly, creative, musical, performing and teaching growth.
Who are our faculty members? CCM professors are Grammy, Emmy and Tony Award-winning performers and designers, ASCAP and BMI Award-winning songwriters and composers, Naumburg Gold Medalists and Fulbright Scholars. They are members of major American orchestras, as well as directors and conductors for the world's leading opera houses and summer festivals. They are researchers, educators, choreographers, filmmakers and playwrights, as well as experts on health and wellness for artists. They have published widely-used textbooks, performed at the White House and produced multimedia for US presidents. They have been featured on major broadcasts like Good Morning America, the Today Show, the Tonight Show, the BBC Proms and Sesame Street, to mention just a few of their accomplishments.
We are committed to excellence and diversity in all of our activities. We believe this commitment is fundamental to our very purpose as a college, and our commitment is affirmed in our university's very mission statement.
We work to bring out the best in our students, faculty and staff by valuing their unique backgrounds, experiences and perspectives – welcoming and leveraging individual contributions to collaborate, create, innovate and compete in a global society. We address issues of discrimination, harassment, sexual misconduct and retaliation so members of our community can work, learn, grow and thrive in a safe and supportive environment. Ultimately, we aspire toward inclusive excellence by leading with courage and compassion, treating everyone with dignity and respect, and enhancing the quality of life for everyone with whom we connect.
CCM is committed to preparing whole artists and scholars to take their places on the world's stage. Whole artists and scholars are not only well-trained in their chosen art form, they are also prepared to thrive in high-stakes, high-pressure media and performing arts environments.
CCM's integrative program of health & wellness for artists teaches students to manage stress, anxiety and burn-out. Our goal is to position CCM graduates for long, healthy and productive lives and careers.

Next Lives Here
At the University of Cincinnati, we realize the impact our teaching, research, artistry and service can have on our community and the world. So, we don't wait for change to happen. We break boundaries, boldly imagine and create what's Next. To us, today's possibilities spark tomorrow's reality. That's why we are leading urban public universities into a new era of innovation and impact, and that's how we are defining Next for the performing and media arts.
We're about engaging people and ideas - and transforming the world.
We are UC. Welcome to what's Next.