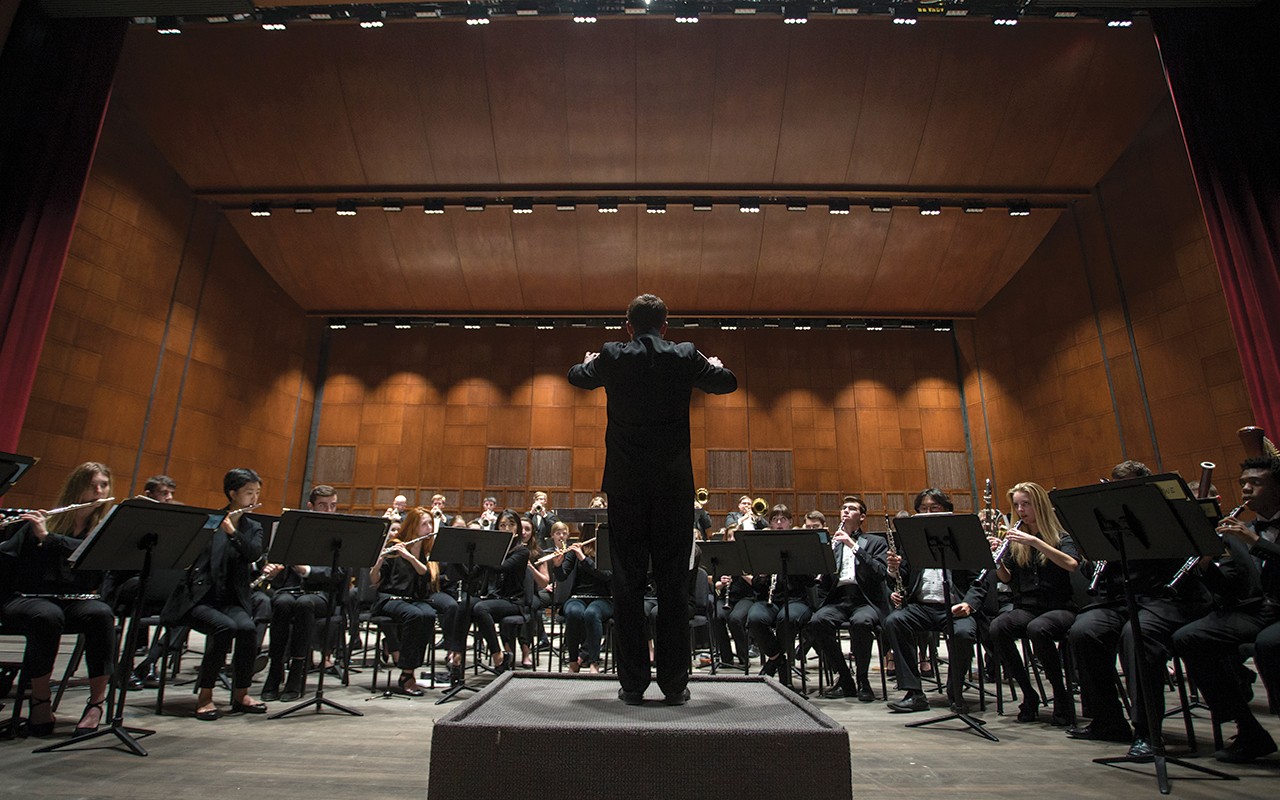 CCM's Department of Wind Studies offers a number of ensembles for credit, including the CCM Wind Symphony, CCM Wind Ensemble, CCM Chamber Winds and CCM Brass Choir. The department also offers the CCM Chamber Orchestra in collaboration with the Department of Orchestral Studies.

Video link: https://www.youtube.com/embed/Ct5_pLBd-8I?rel=0
Each ensemble meets two to three times per week and each performs six full programs anually. Each graduate conducting student conducts all five of these ensembles each year, supervised by our full-time faculty.

CCM offers both the Master of Music and Doctor of Musical Arts in Wind Conducting. The following courses are core to both programs:

Survey of Wind Literature: Year-long course covering the wind repertoire from the Medieval period through today. Assessment is based on score identification, listening identification, and essay topics.
Seminar in Wind Conducting: Weekly meeting of graduate students to address repertoire, rehearsal techniques and other skills required for conductors. Conducting majors participate in this course each semester in residence, one two-hour session per week.
Applied Study in Wind Conducting: Weekly private conducting lessons with Professor Price to view videotapes of rehearsals, discuss score study, and improve technique.
Thomas P Gamboa
,
Assistant Professor and Assistant Director of Wind Studies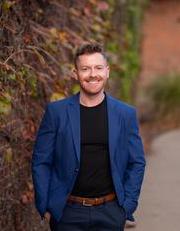 Kevin Michael Holzman
,
Assistant Professor and Director of Wind Studies; Division Head, Ensembles and Conducting
CCM's admissions process begins on August 1 (undergraduate) and September 1 (graduate) for entrance in the following year's fall semester. All application materials must be submitted on or before December 1 to be considered for specific scholarship awards. Visit the CCM Admissions website for additional application instructions.
Pre-screening and Audition Requirements
Applicants must submit the required pre-screening materials via getacceptd.com/ccm on or before December 3 in order to be considered for admissions and invited for an audition.
Pre-screening Requirements
Note: Your video should be from the ensemble perspective, not from behind the conductor.
Choral 

Conducting/Teaching: Submit a 20–30-minute video that demonstrates your conducting and rehearsal. Include at least one complete piece. Note: The camera angle should be focused from the ensemble perspective, so your face and gestures are visible.
Keyboard: Demonstrate your musicianship by submitting an example of a solo piece where you feel most comfortable and musical.
Vocal: Submit a video of your solo vocal abilities. This can be any song, aria, lieder, etc. of your choosing. Consider demonstrating your musical ability, use of language, and intonation skills.

Orchestral – Video recording (no more than 15 minutes) of at least two contrasting works in performance/rehearsal; either excerpts thereof or in their entirety (may include one rehearsal video)
Wind

Two video recordings of rehearsals (15 min each, maximum)
Two video recordings of performances (15 min each, maximum)
Applicants who pass the pre-screening will be invited to campus for an interview, conducting audition, and skills exam. Details of the audition will be sent to the appropriate applicants in early January.

Applicants who pass the pre-screening will be invited to campus for an interview, conducting audition, and skills exam. Details of the audition will be sent to the appropriate applicants in early January.

The in-person audition will consist of:
Conducting two works (one large ensemble, one chamber) which will be determined at the time of invitation
A 30-minute aural skills diagnostic exam
Complete a diagnostic wind literature exam
Interview with the faculty
One-hour lesson with Professor Holzman
a vibrant performance
Janelle's Notes
The CCM Wind Symphony is comprised of highly advanced performers of wind and percussion instruments. The ensemble is internationally recognized as one of the finest groups of its kind. Each semester the players are auditioned and assigned parts on a rotating basis. Following a philosophy of one player per part and adopting flexible instrumentation according to the composer's intentions, the ensemble performs chamber music, selected transcriptions, concerti and original full ensemble repertoire spanning five centuries. The CCM Wind Symphony performs six concerts on campus per season as well as appearing regularly in local school concerts and as special guest artists for conferences, festivals and special events.
Acknowledged as "wonderful and exciting" with performances described as "powerful, moving and thrilling," the CCM Wind Ensemble draws its membership from the finest undergraduate and graduate musicians. Acclaimed for the quality of its performances as well as the diversity and originality of its programming, the CCM Wind Ensemble is dedicated to bringing the finest traditional and contemporary literature to their audiences. This organization has appeared numerous times before the Ohio Music Educators Association, the Kentucky Music Educators Association, the American Society of University Composers, and has been heard nationally through broadcasts on National Public Radio.
The CCM Chamber Winds is comprised of two double wind quintets and focuses on standard wind chamber music repertoire, including works by such composers as Mozart, Krommer, Beethoven, and Strauss, as well as more contemporary repertoire. The CCM Chamber Winds perform as part of the CCM noon-hour Atrium series.
The CCM Chamber Players have combined with the college's "Café MoMus" ensemble to form an exciting new ensemble: CCM Chamber Orchestra. Under the direction of Kevin Michael Holzman and Aik Khai Pung, this ensemble performs chamber works by iconic composers.
All graduate students in wind conducting that are in full-time residence receive a University Graduate Scholarship for full tuition. Wind Conducting majors also receive a 90% assistantship for 18 hours of work per week. Duties for the assistantship are divided among the studio and include:
Teaching assistant for undergraduate instrumental conducting classes
Instructor of first-year Introduction to Conducting class
Teaching assistant for Survey of Wind Literature
Public relations
Scheduling
Program information
Rehearsal and performance set-up and strike
Production assistant for recording sessions
Wind Conducting majors are assigned repertoire to rehearse and perform with five ensembles on a rotating basis, normally working with all ensembles each year.