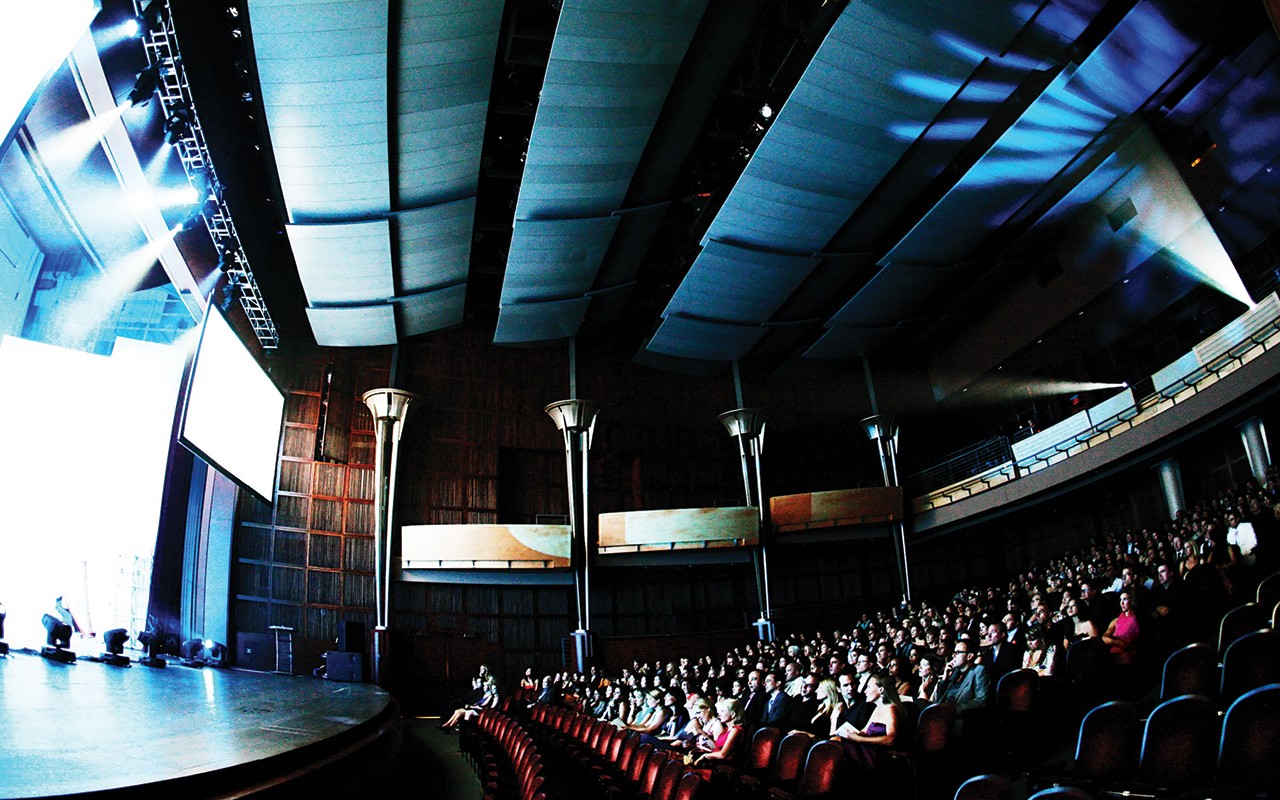 Performances and Public Events
Welcome to CCMONSTAGE, where next begins.
Before they appear on the world stage, tomorrow's arts leaders and luminaries get their start on the CCM stage.
CCMONSTAGE is the public's chance to see these "stars of tomorrow" today. Whether it's exhilarating concerts, breathtaking theatre, innovative multimedia presentations or inspiring public master classes, the artistry that you love lives here.

Video link: https://www.youtube.com/embed/4aBCuOUr28k?rel=0
Watch the CCM Philharmonia perform a program of "Classical Virtuosity" with works by Claude Debussy/Maurice Ravel, Ottorino Respighi, Julia Perry and Wolfgang Amadeus Mozart during the premiere episode of CCMONSTAGE Online.
Enjoying the performance? Support CCM's students by making a gift to CCMpower:
Claude Debussy, orch. Maurice Ravel: Danse (1890)
Ottorino Respighi: Trittico Botticelliano (1927)
Julia Perry: Short Piece for Orchestra (1952)
Wolfgang Amadeus Mozart: Symphony No. 29 in A major, K. 201 (1774)
The CCM Philharmonia
Mark Gibson, music director and conductor
Strings after principal stands are listed alphabetically
Violin I
Magdiell Antequera, concertmaster
Grace Brown, assistant concertmaster
Daniel Fields
Andrew Horak
Jade McClellan
Angkun Uabamrungit
Alayne Wegner
Violin II
Grace Wride, principal
Lauren Greene, assistant principal
Yasmine Bougacha
Sydney Ebersohl
Brittany Hausmann
Rachel Mancini
Viola (1st Half)
Julius Adams, principal
Murphy Combs
Javier Otalora
Aadhivan Ramkumar
Caleb Robinson
Viola (2nd Half)
Maya Fields, principal
Chloe Drake
Celeste Meisel
Nathaniel Sendi
Lucas Wardell
Cello
Maximiliano Oppeltz, principal
Marcel Bobe
Double Bass (1st Half)
Taiga Benito, principal
Zoe Heuser
Zachary Reich
Double Bass (2nd Half)
Caleb Edwards, principal
Esther Kwon
Peter McCutcheon
Flute
Vincenzo Volpe, principal
Caitlyn Lyerly
Oboe (1st Half)
Dylan Reynallt, principal
Daniel Outlaw
Oboe (2nd Half)
Yayi Senior, principal
Elena Suarez
Clarinet
Alyssa Berry, principal
Rachel Beil
Bassoon
John Robken, principal
Elizabeth Beeche
Horn (1st Half)
Sarah Yarbrough, principal
Jacob Speakman
Horn (2nd Half)
Will Morgan, principal
Sarah Palmer
Trumpet
Emery Hicks, principal
Kole Pantuso
Trombone
James Smith, principal
Jordan Rowan
Percussion
Jacob Ottmer
Ryan Thomas
Harp
Claire Greene
Madeline Arney (Debussy)
Janna Young (Respighi)
Celeste
Kara Piatt
Piano
Thomas Ryskamp
Graduate Assistants
Xiao Geng
Kara Piatt
Shimon Ohi
Sophie Mok
Kin Szeto
Caleb Glickman
Librarians
Rebecca Flank
Kristin Welke
More About CCM's New Virtual Performance Series
CCM's "stars of tomorrow" are back on stage, and you get the best seats in the house!
CCMONSTAGE Online is a dynamic new series of digital concerts and performing arts presentations showcasing the unparalleled artistry and expertise of CCM's students, faculty and staff. Here's a sneak peek at our upcoming performances:
Video link: https://www.youtube.com/embed/M00oNZePXk0?rel=0
Our series premiere is now available for on demand viewing. Additional episodes will be released throughout 2021!
Video production by MasseyGreenAVP, LLC. This digital performance series is made possible by support from CCMONSTAGE Online Broadcast Sponsors CCMpower and ArtsWave, and CCMONSTAGE Online Production Sponsors Dr. & Mrs. Carl G. Fischer.
Update On Public Events
A carefully crafted blend of in-person and virtual offerings, in addition to enhanced health and safety measures, is providing our students with the best collegiate experience possible in this new era of living and learning.
With large, in-person gatherings still prohibited, CCM's performances and other on-campus activities will continue to be closed to the general public until further notice.
We will continue to share updates and additional information online and in future installments of our CCMONSTAGE Online email newsletter.
Performance dates and details subject to change.