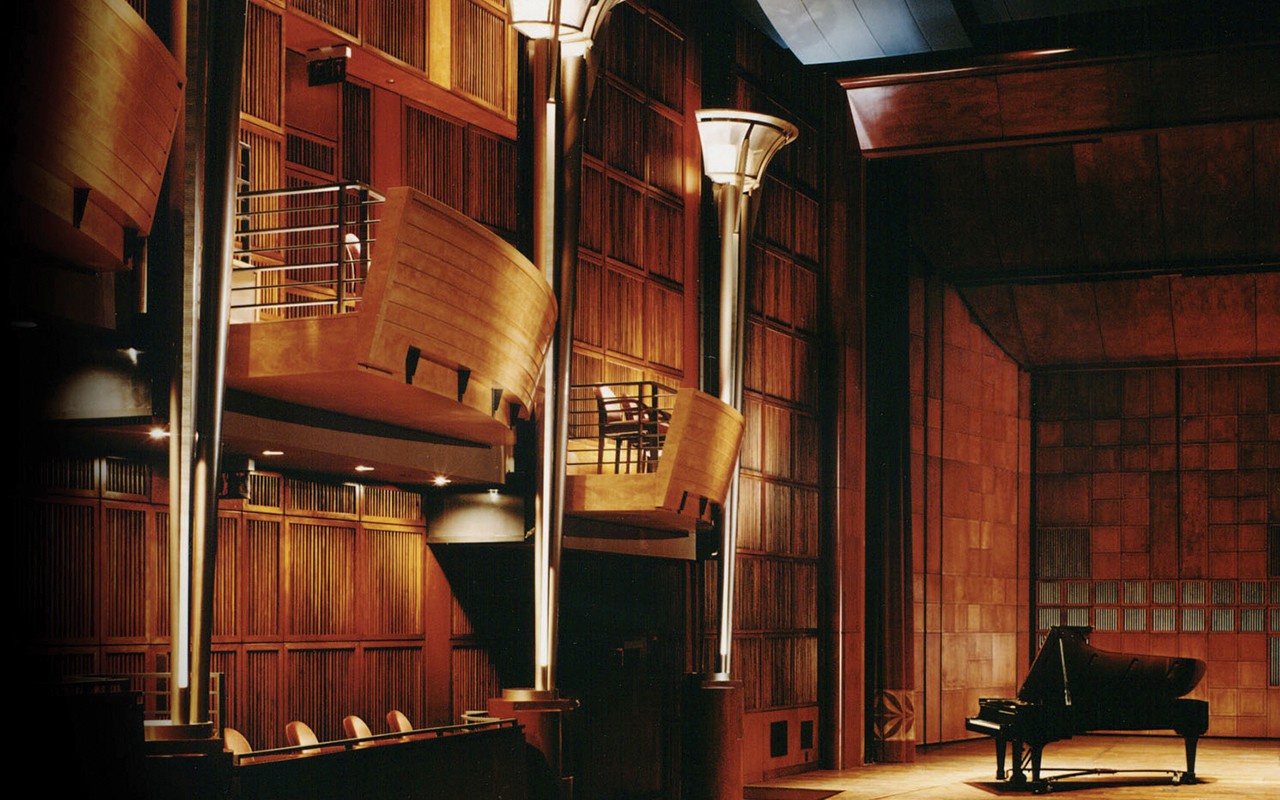 CCM's world-class facilities provide a highly creative and multidisciplinary artistic environment. The school's campus, which is commonly referred to as the CCM Village, is equipped with state-of-the-art classroom, studio and performance facilities.
The CCM Village is primarily housed in four buildings:

Corbett Center for the Performing Arts
Dieterle Vocal Arts Center
Mary Emery Hall
Memorial Hall
In 2017-18, CCM completed a $15 million infrastructure project to upgrade the overall technology of its performance venues and advance the student experience. CCM's state-of-the-art facilities provide students with professional-level working and learning environments to prepare them for future careers.
a facility that rivals the best in the world
BridgeToMusic.com
The initial completion of CCM's "campus village" in 1999 – a $93.2 million, seven-year project – significantly enhanced the college's teaching and performance capabilities. The renovated complex stressed the synergy between the performing and media arts while effectively accommodating CCM's vast performance calendar. CCM's ample performance facilities include the 663-seat Corbett Auditorium, the 378-seat Patricia Corbett Theater, the flexible Cohen Family Studio Theater, the 250-seat Robert J. Werner Recital Hall and the 140-seat Watson Recital Hall.
Other highlights of CCM Village include:

8,500 square foot scene shop
3,000 square foot costume shop
Wig, make-up and prosthetics studios
1,500 square foot design/drafting studio
800 square foot light lab
Sound design studios
Three dance studios (with observation room), therapy and dressing rooms
Five large movement and acting rehearsal rooms
digital recording and editing studio, a MIDI lab and computer workstations for music notation and sequencing programs
Full orchestral, choral and band rehearsal spaces
Jazz record library housing over 10,000 historic LP's
Dale Warland Singers Archive, which includes more than 110 choral works and arrangements, first edition copies of all 270 works commissioned by the Dale Warland Singers and a media library that has more than 300 audio and video recordings of the ensemble's performances
Walter and Marilyn Bartlett Television Production Center, consisting of a full multi-camera television studio and control room
Lawrence A. Leser Newsroom
J. Ralph Corbett Audio Production Center with audio recording studio
Judy and Jim Van Cleave Multimedia Laboratory
Jack and Joan Strader Radio Center, a closed circuit cable radio station, a teleconferencing facility and the TV Cable Channel 4
Electronic piano lab with 28 pianos
Early Music and World Music lab
With the help of design architect Henry N. Cobb, founding partner of Pei Cobb Freed & Partners, the college produced a physical environment that truly reflects and advances its reputation as one of the nation's finest and most comprehensive training centers for the performing and media arts.

CCM's resources also include the Albino Gorno Memorial Music Library. Located on the 600-level of UC's Carl Blegen Library, which is adjacent to the CCM Village, the music library houses more than 150,000 volumes, including books, music scores, periodicals, microforms and recordings that support the full range of programs offered at CCM. The Albino Gorno Memorial Music Library also contains group study spaces, high fidelity media players and a computer lab. Learn more by visiting libraries.uc.edu/ccm.
The CCM Village is housed within the University of Cincinnati, deemed "one of the most architecturally dynamic campuses in America today," by the New York Times and named the among world's most beautiful college campuses by Forbes. Other notable architects who have designed UC campus structures include Frank Gehry, David Childs, Peter Eisenman and Michael Graves.