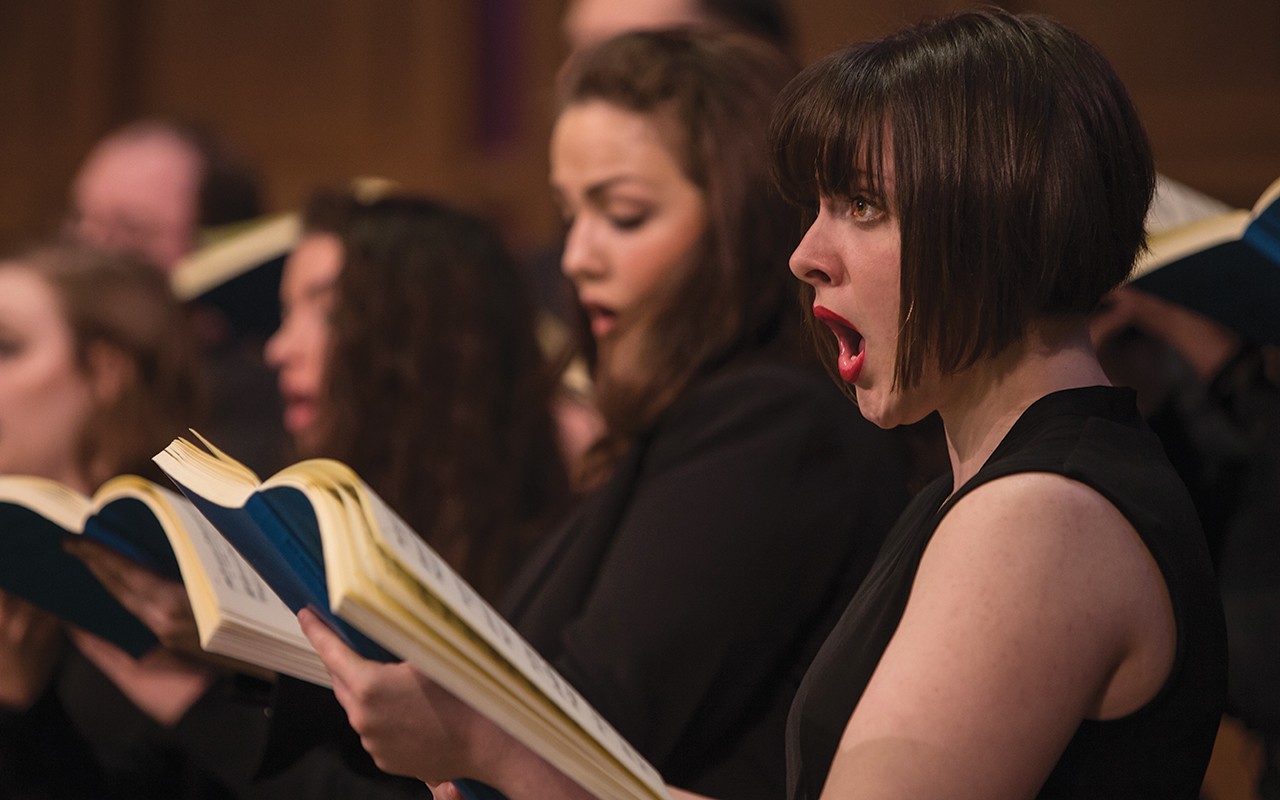 CCM's Choral Studies Program is internationally recognized for more than 50 years of excellence in training conductors for successful, lifelong careers in the choral arts. 
CCM has delighted multiple generations of music lovers with the concerts presented by its five choral ensembles: the 32-voice Chamber Choir, 45-voice Chorale, 30-voice Chamber Singers and 100-voice UC Men's and UC Women's Choruses. Performances range from acclaimed staged productions presented in collaboration with CCM's Opera Department to presentations of contemporary works like David Lang's Little Match Girl Passion and Tan Dun's Water Passion after St. Matthew.
Video link: https://www.youtube.com/embed/mYXpoqZIXxM?rel=0
The Master of Music and Doctor of Music Arts programs provide professional level experiences in rehearsals and performances, developing musicianship and technique, and acquiring knowledge of styles, performance practices and repertoire.
MM and DMA graduates of CCM's Choral Studies Programs are conducting and administrating highly successful professional, collegiate, symphonic, secondary, children's and church choirs programs throughout the world.

Online applications are due December 1 for admission in fall of the following year. By mid-December of each year, qualified applicants will be invited to audition in-person. These auditions occur in January or February each year.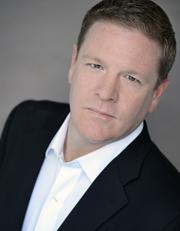 Joe M Miller
,
Professor of Choral Studies/Chair of Choral Studies
The CCM Chamber Choir is CCM's premier choral ensemble of 32 singers. Under the direction of Earl Rivers since 1995, and under the direction of Joe Miller after August 15, 2020, the choir performs masterworks with chamber orchestra and miniatures from the historical standard repertory and contemporary periods. The Chamber Choir rotates the cycle of J.S. Bach's masterworks - Mass in B Minor, Christmas Oratorio, St. John Passion and St. Matthew Passion - and Monteverdi's Vespers of 1610.
The CCM Chamber Choir has been acclaimed for its staged productions in collaboration with CCM's Opera Department of Bach's St. John Passion (Nov. 2013 at Christ Church Cathedral and Oct. 2018 at Knox Presbyterian Church) and St. Matthew Passion (Nov. 2011 - St. Peter in Chains Cathedral and April 2017 - Christ Church Cathedral), and its Monteverdi Project (Nov. 2012), which hosted international and national Early Music guest artists with CCM students in selections from Book 8 Madrigals of Love and War and Selva Morale e Spirituale that was produced for Public Television by WCET Arts Connect. The Chamber Choir has received accolades for presentations from the canon of contemporary works to include David Lang's Little Match Girl Passion, Tan Dun's Water Passion after St. Matthew, Schnittke's Concerto for Choir, and the collegiate premiere of Bastian Clevé's film, The Sound of Eternity, with Bach's Mass in B Minor. In 2014-16 the Chamber Choir produced CCM's Shakespeare Quadricentennial honoring the playwright's 450th and 400th anniversaries of his birth and death with premieres of three newly commissioned works by Judith Bingham, Dominick DiOrio, and Jake Runestad. The Chamber Choir has performed before national and regional conventions of ACDA, participated in Chorus America's Masterclass for Choral and Orchestral Conductors at CCM, presented a lecture–demonstration for the NCCO national conference at CCM, and was featured in a program of si placet works of Josquin and his contemporaries for a national convention of the American Musicological Society.
The Chamber Choir's performances in 2019-20 featured Dallapiccola's Canti di prigionia, Frank Martin's Mass for Double Choir, Ešenvalds' Salutation, Walton's Coronation Te Deum, Schütz's Alleluia Lobet den Herrn, Purcell's Funeral Music for Queen Mary, and with the Cincinnati Symphony Orchestra a fully staged production of Ravel's L'enfant des Sortilèges. The April 2020 production of the Monteverdi's Vespers of 1610, to have featured Early Music Guest Artists – The Dark Horse Consort, Adriane Post, Baroque violin, Adriana Contino, Baroque cello, and others, was cancelled, due to the coronavirus.
The 2020-21 Chamber Choir season will open with an a capella concert in Corbett Auditorium with repertoire responding to the isolation that is has changed our world. The season continues with Mozart's C Minor Mass K. 427 performed at Christ Church Cathedral with members of the CCM Philharmonia Orchestra. The season will conclude with a combined concert with the CCM Chorale in the beautiful Covington Cathedral Basilica. The concert, titled Reflection, will feature Durufle's Requiem along with music with themes of water and reflection.
With a history stretching back more than 50 years, the CCM Chorale is one of CCM's two primary choral ensembles. Over its prestigious history the ensemble has had only three directors – founding director John Leman (deceased), Stephen Coker, and current director Brett Scott. Comprised primarily of undergraduate students from CCM and the greater University of Cincinnati population, this diverse ensemble includes (among others) Voice, Music Education, Musical Theatre, Piano, Organ, Instrumental Composition, Music History, Theory and E-Media majors.
The CCM Chorale maintains an active performance schedule both within and without the walls of the University of Cincinnati. It regularly combines with other CCM ensembles to execute large choral/orchestral and operatic works, and also performs more intimate compositions with the school's top chamber ensembles. The ensemble has a strong presence in the Cincinnati community, annually performing stand-alone or combined concerts in the top venues and concert series of the greater Cincinnati area. Chorale has sung at multiple American Choral Directors Association and Midwest Composers Symposium conferences, and has been guest artists with several Cincinnati musical organizations, including the May Festival Chorus.
Over the last two seasons, Chorale has performed the North American premiere of Fredrik Sixten's St. John Passion, the American premiere of a staged production of Andrew Staniland's Dark Star Requiem, and an All-Brahms program with the CCM Concert Orchestra featuring the Alto Rhapsody, Op. 53; Nänie (A Funeral Song), Op. 82; and Schicksalslied (Song of Destiny), Op. 54. The ensemble has also completed recording projects of the Sixten St. John, and a disc of sacred music for choir and electronics. Additional repertoire has included Jonathan Dove's The Passing of the Year, an All-French and All-Schubert program, and Puccini's Messa di Gloria. Due to the coronavirus, performances with the CCM Wind Symphony in April 2020 of Bruckner's Mass No. 2 in E Minor and Brahms' Begräbnisgesang, Op. 13 were cancelled.
In the 2020-21 season, Chorale will present the regional premiere of Ivan Moody's Passion and Resurrection, Brahms' Ein deutsches Requiem in collaboration with Concert Orchestra, as well as programs of contemporary Portuguese and Cuban choral music.
The Chamber Choir, Chorale and Cincinnati Youth Choir combine annually to present standard repertory and contemporary choral/orchestral masterworks with the CCM Philharmonia and Concert Orchestras, the CCM Wind Symphony and CCM Jazz Studies. Recently featured were Act One of Puccini's Tosca in Concert (October 2017), the American university staged premiere of Honegger's Joan of Arc at the Stake (Feb. 2016), Berlioz's Te Deum (March 2015), John Adam's El Niño for the ACDA Central Division Convention and the public (February and March, 2014), two masterworks celebrating the 200th anniversary of the birth of Verdi - Don Carlos in the original 5-act French version (September 2013) and Requiem (January 2013), as well as Berlioz's La Damnation de Faust with visuals by Raul Barcelona (February 2012) and a concert version (complete) of Puccini's Turandot (January 2011). Recent seasons have featured collegiate premieres of John Adam's On the Transmigration of Souls, Philip Glass's Symphony No. 5, Penderecki's Credo and Augusta Read Thomas's Ring Out, Wild Bells, To The Wild Sky, the latter two works both performed before the ACDA Central Division Convention (February 2012). Chamber Choir and Chorale have combined to perform with the Cincinnati May Festival, the western hemisphere's oldest continuing choral festival. Recent performances have featured the Mahler Symphony No. 8 conducted by James Conlon and Berlioz Requiem conducted by James Levine.
In 2016-17 the Chamber Choir, Xavier University Concert Choir and CCM Philharmonia presented Szymanowski's Symphony No. 3 (Oct. 2) on the CCM Orchestral Department's Polish Music Festival.
The CCM Chamber Singers is a 30-voice mixed chorus of music majors conducted exclusively by graduate MM and DMA choral majors, under the mentorship of the choral faculty. MM and DMA choral majors gain professional conducting training through rehearsals and performances of the Chamber Singers, performing a varied repertoire of a cappella, accompanied and chamber works from all style periods. Chamber Singers rehearsals are followed by master classes for MM and DMA choral majors with choral and guest artist faculty.
The UC Men's and Women's Choruses of 100 voices are comprised of undergraduate students from the University of Cincinnati's fourteen component colleges of over 43,000 students. DMA and MM choral majors with significant experience are awarded the Directorships of these ensembles. The Cabaret Singers is a 16-voice ensemble of members from the UC Men's and Women's Choruses, performing a variety of styles of music. In 2020-21, Matthew Coffey, third-year DMA Choral major, is Director of the UC Men's Chorus, Reina Dickey, first-year DMA choral major, is Director of the UC Women's Chorus, and Shane Thomas, second-year DMA, is Director of the Cabaret Singers. The position of Director of the UC Men's Chorus will be open to a new DMA student in August 2021.
The UC Choruses and Cabaret Singers perform a diverse repertoire of a cappella, accompanied, folk, spirituals and world music. They present a major concert each semester on campus, perform off-campus, appear on CCM's Feast of Carols, make an annual spring weekend tour, and annually present a major choral/orchestral work. In March 2019 the UC Choruses toured in Chicago, and in November 2019 offered Vaughn Williams' Dona nobis pacem with orchestra.
Generous podium experiences, with opportunities each semester to conduct a series of rehearsals and performance with the CCM Chamber Singers, a 30-voice mixed chorus of music majors, which has three 90-minute rehearsals weekly and is conducted exclusively by MM and DMA choral conducting majors, under the mentorship of choral faculty.
Intensive studies in instrumental conducting and score preparation, in addition to choral conducting classes and seminars each semester in residence.
Conducting positions for DMA choral majors as Director of the UC Men's Chorus and Director of the UC Women's Chorus, which present on and off-campus concerts, tour, and perform masterworks with orchestra. The GA position for Director of the UC Men's Chorus will be open for a new DMA major in August 2021.

Conducting positions for DMA and MM choral majors as Assistant Director of the CCM Chamber Choir, Assistant Director of the CCM Chorale, Director of the UC Cabaret Singers, Director of Choruses for CCM mainstage Opera productions, Assistant Director of the Undergraduate Opera Project, and as Directors and Assistant Directors of multiple choirs for the Cincinnati Youth Choir, Ensemble-in-Residence at CCM, which serves over 1,000 children and youth in seven resident choirs, 10 satellite choirs and three festival choirs, and also partners with the May Festival Chorus, Cincinnati's Vocal Arts Ensemble and an El Sistema based choral program in the Cincinnati Public Schools.
Annual $10,000 conducting position for a first-year DMA choral major with the May Festival Chorus through the May Festival Conducting Fellowship.
Master classes, residencies, and workshops with guest master conductors and internationally acclaimed choirs. Past master conductors at CCM have included Charlene Archibeque, Harry Christophers, Stephen Cleobury, Fiora Contino (deceased), Stephen Darlington (deceased), Vance George, George Guest (deceased), Tom Hall, William Hatcher, Thomas Hilbish (deceased), Joseph Jennings, Craig Hella Johnson, Donald Nally, Peter Phillips, Johannes Prinz, Patrick Dupré Quigley, Leonard Ratzlaff, Richard Sparks, Martin Steidler, Dale Warland, Jon Washburn, William Weinert, Richard Westerberg (deceased) and Sir David Willcocks (deceased). Master classes have included internationally known ensembles, with MM and DMA choral majors conducting the Dale Warland Singers under the mentorship of Dale Warland, The Sixteen under the mentorship of Harry Christophers, and the Tallis Scholars under the mentorship of Peter Phillips.
In-depth studies over four semesters of the Survey of Choral Literature from Early Renaissance through Contemporary.
Musicology and Theory courses and special topics seminars with world-renowned specialists.
Voice Diction in French, German and Italian, along with Voice Pedagogy with members of CCM's Voice faculty.
Voice Lessons each semester in residence.
DMA Cognates offered in Historically-Informed Performance, Sacred Music, Orchestral Conducting, Music Education, Musicology, Theory, Applied Music, Collaborative Piano and Arts Administration.
Access to America's greatest resource of choral scores through the CCM Choral library, with multiple scores of over 3,500 works; the Dale Warland Singers Performance Score Library, with multiple scores of over 1,100 works, (270 being commissioned works); and the University of Cincinnati Libraries, which offer borrowing privileges from all Ohio academic libraries via Ohio-Link.
Pre-screening and Audition Requirements
Applicants must submit the required pre-screening materials via getacceptd.com/ccm on or before December 1 in order to be considered for admissions and invited for an audition.
Pre-screening Requirements
Note: The video should be from the ensemble perspective, not from behind the conductor.
Choral – Video recording of a rehearsal and a performance
Orchestral – Video recording (no more than 15 minutes) of at least two contrasting works in performance/rehearsal; either excerpts thereof or in their entirety (may include one rehearsal video)
Wind – Video recording of a rehearsal and a performance 
More information about auditions coming soon.
Choral Conductors must submit performance examples of their keyboard, vocal, and ear training.  Each of these is defined below.
Keyboard: Submit a video example of your keyboard abilities. Demonstrate your musicianship by submitting an example of a solo piece where you feel most comfortable and musical. 
Vocal: Submit a video of your solo vocal abilities.  This can be any song, aria, lieder, etc. of your choosing. Consider demonstrating your musical ability, use of language, and intonation skills.
Ear Training: We will provide two excerpts for you to video record and submit.  One will be of yourself singing one part while playing another, and the other will be a single line that you will sing a cappella. The purpose of this excerpt is to assess your ability to learn music accurately and musically. 
Interview: Please prepare the following excerpts as if you were going to conduct and rehearse. The committee will have a conversation with you regarding historical relevance, musical characteristics, and pedagogy (conducting/teaching).

MM – Mozart Requiem, Introit and Kyrie (Süssmayer)
DMA – Beethoven 9th Symphony, be able to discuss the entire symphony but focus on the fourth movement.
Eight Choral Graduate Assistantships (GA) offering competitive stipends and full tuition waivers, with additional CCM GAs available in other CCM Departments.
Scholarships for MM and DMA choral majors from the Elmer and Mary Thomas Scholarship Fund for Choral Conducting and the David R. Davidson Conducting Scholarship.
$10,000 annual stipend for a first-year DMA choral conducting major who receives the May Festival Conducting Fellowship with the May Festival Chorus.
Opportunities as professional (paid) singers with Cincinnati's Vocal Arts Ensemble (professional chamber choir) and the May Festival Chorus (symphonic chorus).
Opportunities for generous financial support for performance, research, and travel and registration fees for conducting competitions, master classes, workshops and conferences through the Dean of CCM's Travel Funds.
CCM is the official home of the Dale Warland Singers Archive, which contains one of the largest collections of contemporary choral works in the country.