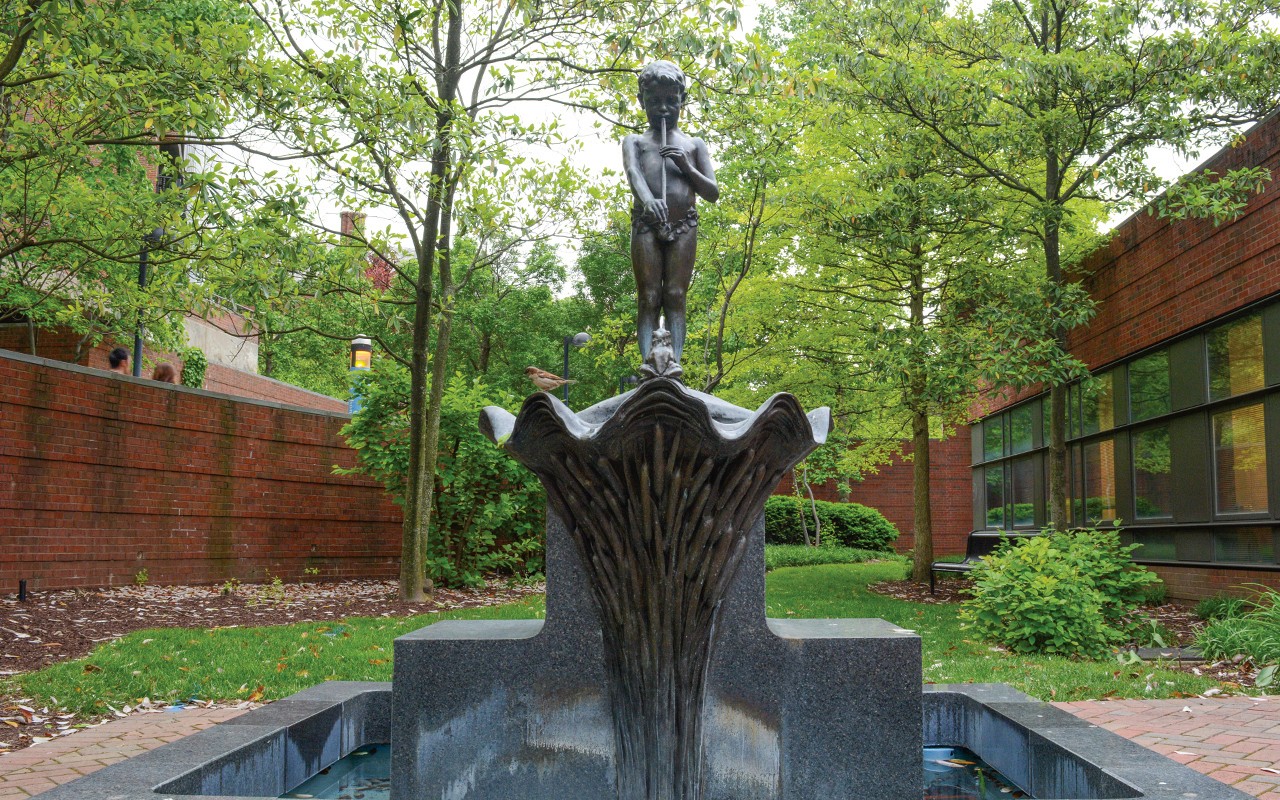 Applications for Fall 2022
Undergraduate: 2,169

Graduate: 1,448
Admitted Student Statistics for Fall 2022
Undergraduates

Average GPA: 3.62/4.0
Average Test Score (converted): 28.6*

Graduates
* The University of Cincinnati was test optional for Fall 2022-23 admissions cycle.
Full Time: 115

Part Time: 141

College Enrollment for 2022-23 (All Enrolled Students)
Total: 1,333

Undergraduate: 797
Graduate: 536
College Enrollment for 2022-23 (Full-Time Equivalency)
Total: 1,179

Undergraduate: 776
Graduate: 403
CCM's current student population comes to Cincinnati from 41 different U.S. states and 41 different countries. International students represent roughly 23% of the student body.
CCM regularly takes one of the top spots in Playbill Magazine's annual list of "10 Most Represented Colleges on Broadway."
CCM was #12 on the Hollywood Reporter's list of "Top 25 Undergraduate Drama Schools" in the world, appearing alongside schools like Juilliard, the London Academy of Music and Dramatic Arts, the Royal Academy of Dramatic Art and Bristol Old Vic.
CCM's Opera program has long been regarded as one of the world's most comprehensive training programs. In July of 2016, the Toronto Star reviewed a production of the new American opera Fellow Travelers, which was workshopped at CCM through the renowned "Opera Fusion" program that the college co-hosts with Cincinnati Opera. The review hailed CCM as "one of the continent's major music schools."
100% of the graduates from the MA/MBA Arts Administration joint program between CCM and the Lindner College of Business have gained employment in their chosen field.
Graduates of CCM's Music Education programs enjoy a 100% placement rate, often as school music teachers, community arts personnel, church musicians, college faculty members and students in advanced programs of study.
CCM's piano faculty features two Naumburg International Piano Competition Gold Medalists: Awadagin Pratt (1992) and Soyeon Kate Lee (2010).
The internationally acclaimed Ariel Quartet has served as CCM's string quartet-in-residence since 2012. Awarded the prestigious Cleveland Quartet Award, the Ariel Quartet directs CCM's chamber music program and presents an annual series of concerts.
CCM is home to the innovative CSO/CCM Diversity Fellowship program, co-hosted with the Cincinnati Symphony Orchestra and funded by The Andrew W. Mellon Foundation. The program provides a two-year learning experience for graduate-level violin, viola, violoncello and double bass players coming from populations that are historically underrepresented in classical music. The program is already garnering attention among leaders throughout the music world and consists of frequent performances with the CSO, focused mentorship by professional CSO musicians, and simultaneous enrollment in a master's or artist diploma degree program at CCM where fellows will be guided by CCM's illustrious faculty.
CCM is the largest single source of performing arts presentations in the state of Ohio. The annual calendar boasts nearly 1,000 events, ranging from solo recitals to fully-staged opera and musical theater performances.
In the most recent rankings by U.S. News and World Report, CCM was honored as the sixth top university program in the country for pursuing a graduate degree in music. Within the specialty areas of voice and conducting, CCM's programs placed third and fifth, respectively. Other nationally ranked programs include Music Composition, Orchestra/Symphony and Acting. The Musical Theatre program is widely considered one of the best in the country.
CCM ensembles have performed internationally, recorded for major labels and won ASCAP awards for excellence and programming.
Nine degrees are offered (BA, BM, BFA, MFA, MM, MA, AD, DMA, PhD) in nearly 120 possible majors.
The Albino Gorno Memorial Music Library houses more than 150,000 volumes, including books, music scores, periodicals, microforms and recordings that support the full range of programs offered.
The library is supplemented by the Music Listening Center, which offers an advanced audio system with 48 listening stations and 24 computer stations.
Among the performance spaces are the 663-seat Corbett Auditorium, the 378-seat Patricia Corbett Theater, the versatile Cohen Family Studio Theater, the 250-seat Robert J. Werner Recital Hall and the 140-seat Watson Recital Hall.
"Smart" classrooms allow electronic access to the latest information in real time and offer opportunities for cutting-edge audiovisual presentations.
Production facilities include an 8,500 square-foot scene shop; 3,000 square-foot costume shop; wig, make-up and prosthetics studios; design/drafting studio; sound design studio; and a lighting laboratory.
In 2009 CCM received the designation of "All Steinway-School," a distinction shared by the top conservatories in the world. CCM has also become one of the largest repositories of Steinway pianos outside the company's Long Island City, N.Y.-based factory.
In 2011, CCM was recognized as Ohio's first Center of Excellence in Music and Theatre Arts by the Ohio Board of Regents.
In 2019, CCM's Department of Jazz Studies was named the inaugural college affiliate of the acclaimed Jazz at Lincoln Center, a distinction reserved for the country's top-ranked jazz programs.
In April 2022, the CCM Jazz Orchestra had the honor of performing in Jazz at Lincoln Center's second annual Jack Rudin Jazz Championship. The championship featured ensembles from the 10 "most well-regarded university jazz programs in the country."