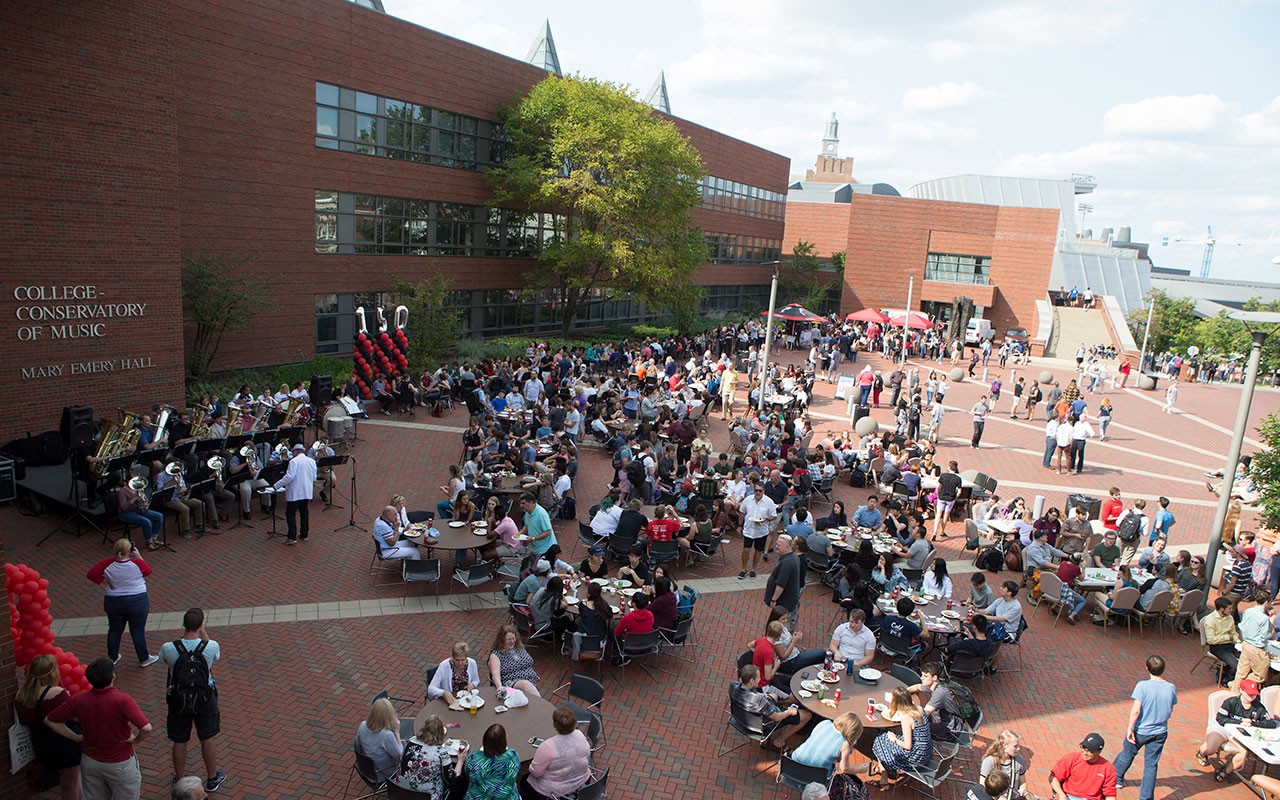 One of the best ways to get involved at UC is by joining a student organization! UC is home to over 600 student organizations that support a variety of interests. These interests range from political/activist, cultural, academic, social and many more!
Find more information on student organizations at CCM below:
CCM Black Student Association
The CCM Black Student Association (BSA) strives to support, empower, engage and connect (SEEC) the black students of CCM. The association's goal is to build strong positive relationships within our college, across our campus and throughout our community.
CCM BSA holds monthly meetings and networking events. The association also hosts an annual black student showcase along with other events that foster the SEEC mission:
Support and build camaraderie across disciplines within CCM
Empower and celebrate accomplishments of others within the group
Engage in regular meet ups and networking events
Connect others together within our college, across our campus and in our community.
The CCM Flute Club provides further instruction and opportunities for both music and non-music students. This organization specifically promotes flute music and the appreciation of the history of the instrument. Members of this club work to promote flute appreciation through fund raising, performing and teaching. The CCM Flute Club believes all students and members of the community deserve access to the arts and to quality music education and engagement.
CCM Graduate Student Association
The CCM Graduate Student Association (GSA) plays an important role in UC's Graduate Student Government to secure funding for activities and student travel grants and to voice the concerns of CCM graduate students in a university-wide forum.

All graduate students of CCM are members of the CCM GSA and are encouraged to attend the regular forum meetings and to participate in the activities of the association. The CCM GSA promotes research across all disciplines of graduate studies at CCM and invites professional scholars, performers and composers as guest lecturers to the campus. 
CCM Tribunal serves to represent undergraduate students at CCM in student government affairs, voice student concerns to CCM faculty and staff, and coordinate activities and projects to enhance the undergraduate student experience at CCM.
CCM Tribunal meets every Tuesday at 6:15 PM in 4218 Mary Emery Hall (across from the CCM Starbucks). Meetings last approximately one hour, though members are expected to hold one office hour per week. Anyone is welcome to join at any time during the school year. Students are eligible to become members after attending two meetings.
CCM Tribunal activities include:
Social events that include all of CCM
Community Service Projects
Sells CCM Merchandise - New Campaign Coming Soon!
Organizes an annual Dean's Forum
Brings in guest speakers and performers
Increases communication between the students, faculty and administration
Works in a variety of other ways to improve life at CCM
Ohio Collegiate Music Education Association
The purpose of the Ohio Collegiate Music Education Association (OCMEA) is to:
make available to its members opportunities for professional development;
acquaint students with the privileges and responsibilities of the music education profession;
provide to its members opportunities to become acquainted with leaders in the music education profession through participation and programs, demonstrations, discussion, and performing groups planned by this chapter, OMEA and NAfME;
further music and music education by involvement in the UC and Greater Cincinnati communities; and
provide opportunity for interaction with other OCMEA chapters.
The Opera Club finds its purpose from the inherent need for individual artistic entrepreneurship in the professional music field with an emphasis on opera and its related fields. The Opera Club is a student-run initiative designed to create fund raising and performance opportunities for undergraduate singers and collaborators, fostering a more accurate representation of the current environment of classical and commercial music and enabling greater success in future professional endeavors upon graduating. We enrich the experiences of undergraduate singers and collaborators during our time at UC and beyond through strong fund raising and personal performance initiatives. Music, performing arts and their administration create strong characters, communicators and colleagues; our mission aims to build the foundation for tomorrow's performers, teachers and listeners.
Sigma Alpha Iota, Eta-Iota
Sigma Alpha Iota is an international professional women's music fraternity, which promotes interaction among those who share a commitment to music. Members of SAI are active in all areas of campus music and campus life, working closely with faculty, administration, campus and community groups, music professionals and patrons. In addition to personal encouragement and support, members may receive scholarships, loans and awards in many areas and at all levels of music-related study. Sigma Alpha Iota has long been recognized as a leader in the field of music and provides a lifetime of fraternity contact. SAI is open to all female-identifying and nonbinary undergraduate students at UC, you do not need to be a music major.
Society of Composers Incorporated
The Society of Composers Incorporated (SCI) is a student run organization at CCM that organizes opportunities, such as guest lectures, reading sessions, workshops and performance opportunities for student composers and performers of new music. The opportunities provide a unique look into the composer-performer relationship, and offer educational value concerning entrepreneurship, artistry, and practicality in the professional music field. These experiences are invaluable for any student interested in music being written in the present day.
The mission of TubaCats is to provide tuba and euphonium players on campus with resources and opportunities to better themselves as performers. This club will host master classes, bring in musicians at the top of their craft, and provide performance opportunities for all.
UC Cello Society is dedicated to the promotion and performance of music on the cello and will provide cellists of all levels at the University of Cincinnati with educational resources, performances opportunities and instruction. The purpose of the UC Cello Society shall be to provide a creative, cultural and educational outlet and community to students holding an interest in the art of cello playing.
UC Choruses is the only non-auditioned choral group on UC's campus. The group has members from all 14 of UC's colleges, including students from throughout CCM. UC Choruses is comprised of three primary ensembles: Women's Chorus, Men's Chorus and Cabaret Singers. Unlike Men's and Women's Chorus, the Cabaret Singers is an auditioned mixed ensemble open only to current members.
Throughout the year, the group travels on retreats, hosts a variety of social events, and has numerous performances in CCM's venues. UC Choruses also holds an annual spring tour, with past tour locations including Washington, New York City, Chicago and Nashville.
This club will provide clarinetists at the University of Cincinnati with educational resources, performances opportunities and instruction with nationally recognized musicians from orchestras and universities around the world. This club will help to develop the local clarinet community and increase the University of Cincinnati's status as a nationally recognized center for music.
The UC Horn Club is made up of hornists who want to foster developments in performance, learning, and repertory. We believe our endeavors will aid in sharing the diversity and musical qualities of the Horn with the general public and promote success for hornists of UC.
The UC Saxophone Alliance is dedicated to the promotion and performance of music on the saxophone. Meetings consist of discussing and listening to saxophone music, and also planning for future events (guest master classes, educational trips, etc).
UC Symphony Orchestra (UCSO) is an ensemble for non-music majors. It is open to students, faculty, staff, and members of the Cincinnati community. Founded as a student organization in 2004 by Richard Wand (A&S '06), Nicole Desender (DAAP '08), Alex Noel (A&S '07), Adam McCormick (A&S) '08) and Angela Santangelo (CCM '08), the UCSO continues performing today as one of CCM's orchestral ensembles, providing an outlet for all students regardless of major, as well as staff, faculty and community members, to play in a high-level orchestra at the university.
In addition to the main orchestra, in the past the UCSO has offered optional small ensembles based on student interest. These include UCSO Chamber ensembles, instrument choirs, or other small small groups.
Throughout the academic year, UCSO offers a few social events such as trips to the Cincinnati Symphony Orchestra (at discounted rates), potlucks, spring cookouts and group dinners. Above all else, a main goal of the UCSO is to allow its members to have a lot of fun making music in a relaxed and friendly setting.
There is no fee or formal audition required to join the orchestra, only your time and dedication. At the beginning of the year (or for new members that join during the year), the music director will want to hear you for an informal audition to pick the best program for the orchestra and assign seating order. This "audition" is very informal and not like a CCM admissions audition.