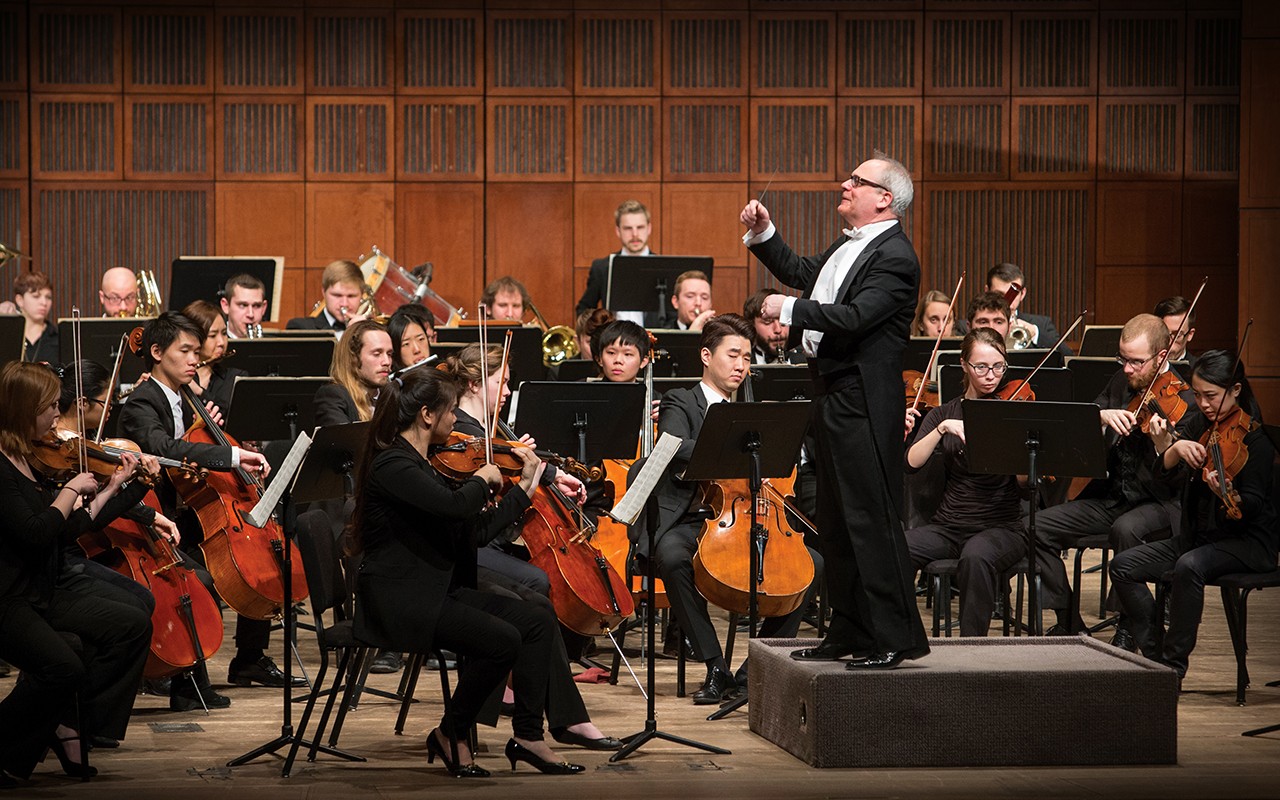 CCM's orchestral program provides an unparalleled educational and performance experience for hundreds of instrumentalists each year.
The breadth of each season's concert series rivals many of the world's great performing organizations. As a result, students become versed in a body of repertoire that encompasses more than most conservatories venture to program.
Video link: https://www.youtube.com/embed/4aBCuOUr28k?rel=0
The close bond between the Cincinnati Symphony Orchestra and CCM's orchestral program invigorates student conductors and instrumentalists alike, and our commitment to high standards enriches the cultural life of Cincinnati.
CCM offers graduate degrees in orchestral conducting at the masters (MM) and doctoral (DMA) level. Under the tutelage of Mark Gibson, director of orchestral studies, student conductors learn the craft in a high-profile program at one of the finest conservatories in the country.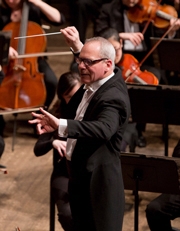 Mark I. Gibson
,
Professor of Music; Director, Orchestral Studies
Pre-screening and Audition Requirements
Applicants must submit the required pre-screening materials via getacceptd.com/ccm on or before December 1 in order to be considered for admissions and invited for an audition.
Pre-screening Requirements
Note: The video should be from the ensemble perspective, not from behind the conductor.
Choral – Video recording of a rehearsal and a performance
Orchestral – Video recording (no more than 15 minutes) of at least two contrasting works in performance/rehearsal; either excerpts thereof or in their entirety (may include one rehearsal video)
Wind – Video recording of a rehearsal and a performance 
More information about auditions coming soon.
Choral Conductors must submit performance examples of their keyboard, vocal, and ear training.  Each of these is defined below.
Keyboard: Submit a video example of your keyboard abilities. Demonstrate your musicianship by submitting an example of a solo piece where you feel most comfortable and musical. 
Vocal: Submit a video of your solo vocal abilities.  This can be any song, aria, lieder, etc. of your choosing. Consider demonstrating your musical ability, use of language, and intonation skills.
Ear Training: We will provide two excerpts for you to video record and submit.  One will be of yourself singing one part while playing another, and the other will be a single line that you will sing a cappella. The purpose of this excerpt is to assess your ability to learn music accurately and musically. 
Interview: Please prepare the following excerpts as if you were going to conduct and rehearse. The committee will have a conversation with you regarding historical relevance, musical characteristics, and pedagogy (conducting/teaching).

MM – Mozart Requiem, Introit and Kyrie (Süssmayer)
DMA – Beethoven 9th Symphony, be able to discuss the entire symphony but focus on the fourth movement.
the flair and technique of a professional ensemble
Rafael's Music Notes
Under the direction of Professor Mark Gibson, the CCM Philharmonia is the college's premier orchestral ensemble and is recognized as one of the world's elite conservatory orchestras. The CCM Philharmonia has risen to world prominence through the quality of its performances, recordings, and its national and international tours. The CCM Philharmonia serves as the opera orchestra for the Conservatory's award-winning opera productions. Members of the CCM Philharmonia are regularly divided into chamber orchestras for a variety of specialized and high-profile performances.
The CCM Concert Orchestra shares a wind and brass rotation with the Philharmonia, with a slightly younger string section. Graduate students provide leadership in the strings, helping the orchestra achieve a high level of performance. Concert Orchestra performs a full season of nine events, often taking the stage alongside the Philharmonia, and performs with both the Mainstage Opera series and CCM's annual "Feast of Carols" celebration.
The UC Symphony Orchestra is a campus orchestra, open to all students regardless of major. Optional small ensembles, various community service events, and social events are offered throughout the year.

The CCM Chamber Players have combined with the college's "Café MoMus" ensemble to form an exciting new ensemble: CCM Chamber Orchestra. Under the direction of Kevin Michael Holzman and Aik Khai Pung, this ensemble performs chamber works by iconic composers.