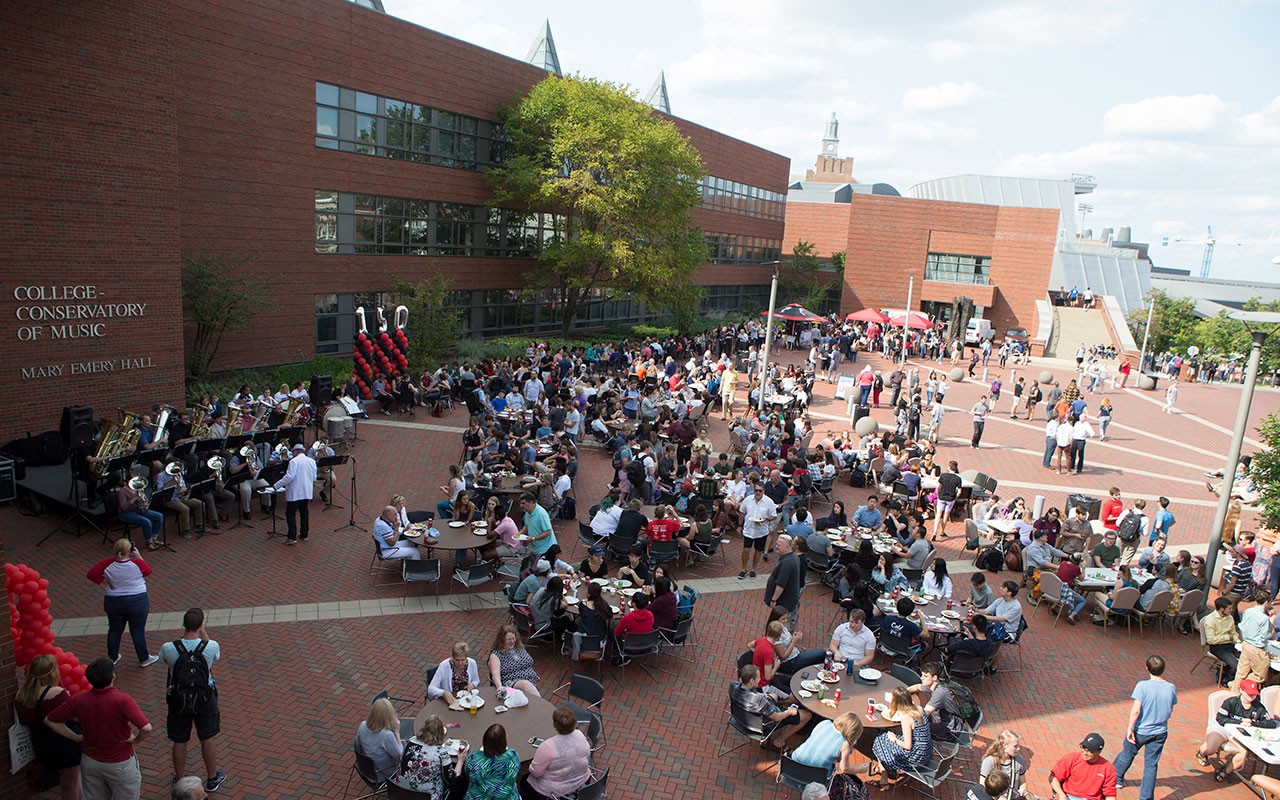 One of the best ways to get involved at UC is by joining a student organization! UC is home to over 500 student organizations that support a variety of interests. These interests range from political/activist, cultural, academic, social and many more!
Find more information on student organizations at CCM below.
CCM Black Student Association
The CCM Black Student Association (BSA) strives to support, empower, engage and connect (SEEC) the black students of CCM. The association's goal is to build strong positive relationships within our college, across our campus and throughout our community.
CCM BSA holds monthly meetings and networking events. The association also hosts an annual black student showcase along with other events that foster the SEEC mission:
Support and build camaraderie across disciplines within CCM
Empower and celebrate accomplishments of others within the group
Engage in regular meet ups and networking events
Connect others together within our college, across our campus and in our community.
CCM Graduate Student Association
The CCM Graduate Student Association (GSA) plays an important role in UC's Graduate Student Government to secure funding for activities and student travel grants and to voice the concerns of CCM graduate students in a university-wide forum.

All graduate students of CCM are members of the CCM GSA and are encouraged to attend the regular forum meetings and to participate in the activities of the association. The CCM GSA promotes research across all disciplines of graduate studies at CCM and invites professional scholars, performers and composers as guest lecturers to the campus. 
CCM Tribunal serves to represent undergraduate students at CCM in student government affairs, voice student concerns to CCM faculty and staff, and coordinate activities and projects to enhance the undergraduate student experience at CCM.
CCM Tribunal meets every Tuesday at 6:15 PM in 4218 Mary Emery Hall (across from the CCM Starbucks). Meetings last approximately one hour, though members are expected to hold one office hour per week. Anyone is welcome to join at any time during the school year. Students are eligible to become members after attending two meetings.
CCM Tribunal activities include:
Social events that include all of CCM
Community Service Projects
Sells CCM Merchandise - New Campaign Coming Soon!
Organizes an annual Dean's Forum
Brings in guest speakers and performers
Increases communication between the students, faculty and administration
Works in a variety of other ways to improve life at CCM
UC Choruses is the only non-auditioned choral group on UC's campus. The group has members from all 14 of UC's colleges, including students from throughout CCM. UC Choruses is comprised of three primary ensembles: Women's Chorus, Men's Chorus and Cabaret Singers. Unlike Men's and Women's Chorus, the Cabaret Singers is an auditioned mixed ensemble open only to current members.
Throughout the year, the group travels on retreats, hosts a variety of social events, and has numerous performances in CCM's venues. UC Choruses also holds an annual spring tour, with past tour locations including Washington, New York City, Chicago and Nashville.
UC Symphony Orchestra (UCSO) is an ensemble for non-music majors. It is open to students, faculty, staff, and members of the Cincinnati community. Founded as a student organization in 2004 by Richard Wand (A&S '06), Nicole Desender (DAAP '08), Alex Noel (A&S '07), Adam McCormick (A&S) '08) and Angela Santangelo (CCM '08), the UCSO continues performing today as one of CCM's orchestral ensembles, providing an outlet for all students regardless of major, as well as staff, faculty and community members, to play in a high-level orchestra at the university.
In addition to the main orchestra, in the past the UCSO has offered optional small ensembles based on student interest. These include UCSO Chamber ensembles, instrument choirs, or other small small groups.
Throughout the academic year, UCSO offers a few social events such as trips to the Cincinnati Symphony Orchestra (at discounted rates), potlucks, spring cookouts and group dinners. Above all else, a main goal of the UCSO is to allow its members to have a lot of fun making music in a relaxed and friendly setting.
There is no fee or formal audition required to join the orchestra, only your time and dedication. At the beginning of the year (or for new members that join during the year), the music director will want to hear you for an informal audition to pick the best program for the orchestra and assign seating order. This "audition" is very informal and not like a CCM admissions audition.
The University of Cincinnati is home to over 500 student organizations that support a variety of interests. These interests range from political/activist, cultural, academic, social and many more! Learn more about UC's other student organizations