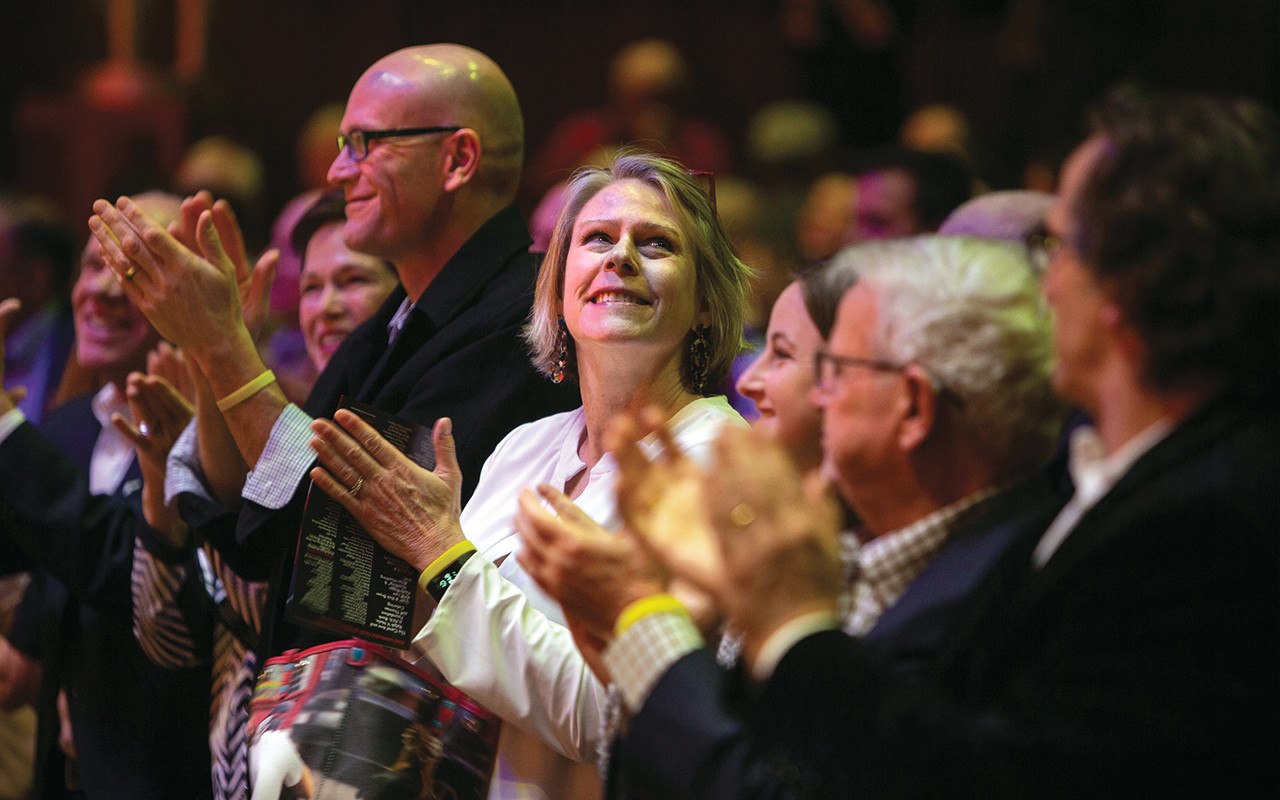 Fueling the Future of the Arts
Thank you for supporting CCM. Your generosity gives CCM students and faculty the necessary resources to empower the next generation of artists and to prepare leaders who will create what comes next in the arts.
Whether you choose to support student scholarships, our sensational performances, a particular division or to give where funds are needed most, your investment in CCM is an investment in our world renowned institution and in securing the future of the performing and media arts.  
CCMpower consist of fans, advocates and alumni dedicated to empowering students and igniting possibilities through scholarship opportunities and more. Your gift to CCMpower is vital to providing the educational opportunities that make the CCM education unique and continuing CCM's reputation of excellence.

By investing in the Dean's Innovation Fund, you will provide the flexible funding that CCM needs to fund the highest priority needs, respond quickly to emerging opportunities, fund innovation in the performing arts and devote special funds to areas of greatest potential. Your support will help attract leading student scholars, provide travel opportunities for students and faculty and fund special collaborative projects at CCM.
Make a gift to your favorite area within CCM and help prepare the next generation of professionals to attain the highest artistic level and mastery in their respective fields.
CCM's Harmony Fund supports artistic works that fight hate and prejudice through the performing arts. John Harrison and Ginger Warner were two of the visionary founders and inspiring leaders of the CCM Harmony Fund based on the belief that the arts inspire imaginative thinking, encourage conversations, present contrasting attitudes and help us examine our own viewpoints.

Your support of The Harmony Fund helps students, faculty and audience members alike to explore controversial issues and unite against hate and prejudice to affect real change in our communities. Learn more about the Harmony Fund and it's past projects/performances.
Thank you for your interest in supporting CCM! CCM's Office of Development and Alumni Relations is committed to the mission and vision of CCM and to raising the funds needed to educate our stars of tomorrow and fuel the legacy of artistic excellence in Cincinnati and around the world. Gifts to the University of Cincinnati are directed through the UC Foundation and are tax deductible to the full extent provided by law. There are a number of ways to make a gift to CCM.
You can make a secure online gift now to CCM! Simply choose the fund you want to support. Consider increasing your impact by setting up a recurring donation.
Please make checks payable to UCF/CCM and please write the designation of your contribution on the memorandum line. Be sure to include a note with any special instructions and how we can contact you to acknowledge your gift.
Mail checks to:
College-Conservatory of Music
Mary Emery Hall, Suite 4255
University of Cincinnati
PO Box 210003
Cincinnati, OH 45221-0003
We invite you to consider CCM as part of your long-term estate and financial plans so that future generations of students and faculty can benefit from your legacy of generosity. Those who name CCM in their planning are also invited to join the Herman Schneider Legacy Society through the University of Cincinnati Foundation's Office of Gift Planning. Please contact the CCM Development Office if we can be of assistance to you in reaching your goals.
Multiply the impact of your gift by taking advantage of your employer's matching gift program. Some companies match gifts made by retirees and/or spouses. Find out if your company has a matching gift program.

You can give back by donating appreciated stocks, bonds and mutual fund shares. You will receive an income tax deduction for the fair market value of the gift.
To make a gift of securities or stock, please contact us for further instruction.
Next, Now
With its focus on innovation and impact, Next, Now: The Campaign for Cincinnati is where ambition meets action. At the University of Cincinnati and UC Health, we're driven by next; thinking bolder and dreaming bigger to create the tomorrow we envision, today. Learn more at nextnow.uc.edu.