A bold summer experience for conductors, singers and composers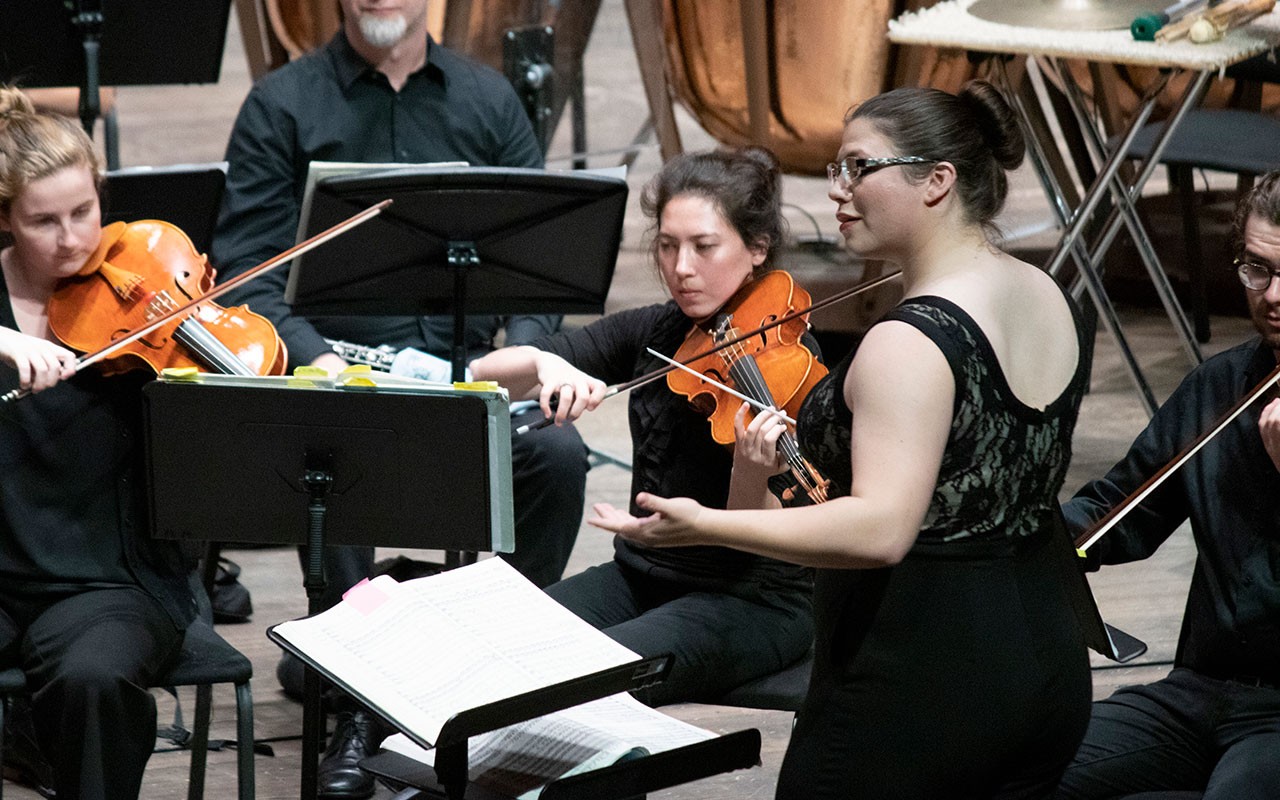 Opera Bootcamp returns with a new commitment and purpose. We go where we have never gone, exploring choral music and music by an emerging and diverse group of composers, as well as our first-ever gala devoted to Georges Bizet. Over the course of three weeks, we will cover a musical range of 250 years, from Austria to France to Latin America and back to the States.
This course will run 3 different, 1-week long sessions for more opportunity to learn:
July 11-18: Mozart C Minor Mass and Tantum Ergo
July 19-25: Bootcamp Opera Gala – Celebrating Bizet
CANCELLED: July 26-August 1: CCM Summer Conductor and Composer Bootcamp – Celebrating Diversity
Opera Bootcamp is an intense and dynamic program designed to develop the interaction between conductor, orchestra and singer. The skills taught at Opera Bootcamp can be applied quickly and effectively to have great impact on your success as an artist. If you are an aspiring conductor, singer, or composer… we want YOU!
All activities will follow UC/Ohio/CDC COVID-19 guidelines for safety.
There are three levels of participation for Bootcamp conductors:
Participants – Participants receive training on craft and style, as well as hands-on experience running rehearsals with orchestra, singers, and piano.  They will share the final performance on the podium, which will be professionally filmed and recorded.
Apprentices – Will have access to all classes, rehearsals, coaching sessions, and performances and have sessions with Bootcamp faculty on craft and style.  They will share one rehearsal with orchestra and have a feedback session with Bootcamp faculty.
Auditors – Will have access to all classes, rehearsals, coaching sessions, and performances.  Auditors will have one discussion session with Bootcamp faculty.
All conductors will participate in the CCM Summer Conducting Bootcamp Chorus.  Conductors may be accepted to participate in more than one week of Bootcamp.
Conductors may apply for multiple weeks at a discount, 10% for 2 weeks and 20% for 3 weeks.
July 11-18:  Mozart C Minor Mass and Tantum Ergo
July 19-25:  Bootcamp Opera Gala – Celebrating Bizet
CANCELLED July 26-August 1: CCM Summer Conductor and Composer Bootcamp – Celebrating Diversity
Dates: July 11-18, 2021
Joining us for the first time on Bootcamp faculty is renowned choral conducting master, Dr. Joe Miller, who joined the faculty at CCM this year after many years of distinguished service at Westminster Choir College.  He is also director of choral activities at Spoleto USA and the Philadelphia Orchestra Symphonic Chorus.  Dr. Miller will lead our first-ever choral conducting Bootcamp, working in depth with 12 participants on Mozart's musical language, refinements of choral execution, and style.  A week of intense study, practice, and rehearsal culminates in Mozart's early, exuberant Tantum Ergo and his mature masterwork, the C Minor Mass, led by the participants. Apprentices will have the opportunity to work with the Bootcamp orchestra and chorus under the supervision of Dr. Miller and Maestro Gibson.  All participants, auditors, apprentices will also serve as the chorus, giving them first-hand experience on both sides of the baton.

Applications can be submitted via GetAcceptd. 
Dates: July 19-25, 2021
Returning to CCM for the first time since embarking on her international podium career, Maestra Xian Zhang joins Maestro Gibson and Bootcamp veteran Ken Weiss of the Washington National Opera for the Bizet Opera Gala week.  Up to 15 conductors and 10 singers will work with the faculty on excerpts from three of Bizet's masterpieces, the legendary Carmen, the underappreciated Les Pêcheurs de perles, and his unjustly neglected one-act, Djamileh.
While preparing this extraordinary work, we will address the challenges of its premise and libretto, discussing its cultural implications in the cultural context of 2nd empire French opera.
Applications can be submitted via GetAcceptd. 
July 26-August 1, 2021
We are excited to inaugurate the CCM Summer Conductor and Composer Bootcamp - Celebrating Diversity, a program dedicated to the presentation and preparation of new works by emerging composers.  Gifted conductors and composers will have a chance to work together with faculty on repertoire for the final presentation.
Working with rising star Brian Raphael Nabors, CCM composition professor Michael Fiday, and Maestro Gibson, Bootcamp composers will have their works analyzed and read with members of the CCM Summer Bootcamp Orchestra (CSBO).  The dynamic workshop atmosphere will include daily seminars and panel discussions featuring presentations by the composers, daily panel discussions among conductors and composers on topics of diversity in the music industry, career development for composers, and related issues.  All composers accepted will have their works read and recorded by the CBSO, led by Opera Bootcamp conductors, and followed by feedback discussions with orchestra members, Bootcamp conductors, and faculty.  Three works will be selected for performance with the CBSO and Bootcamp conductors, and will be video documented.  They will be performed alongside works by master composers Julia Perry, Anthony Davis, Gabriela Lena Frank and Brian Nabors.
Note for composers:
Applications can be submitted via GetAcceptd.  Please include:
brief bio/resume
two letters of recommendation
list of works
two scores/audio of representative works

one of which should be a representative work for orchestra.
The latter should be either the work you wish to have read/performed (see instrumentation below) or an example of a work for orchestra.  NOTE: Recordings of MIDI realizations are acceptable in cases where a live recording is not available. Compositions for consideration should not exceed the following instrumentation:

Strings 5/4/3/2/1 (players), double winds (auxiliary instruments possible), 2 horns, 2 trumpets, 1 trombone, 2 percussion players, harp and piano/keyboard.  Maximum orchestra size – 32; Works for smaller orchestral forces are eligible for consideration.
Artistic Director: Mark Gibson, Director of Orchestral Studies at CCM
Guest Faculty:

Xian Zhang, Music Director, New Jersey Symphony Orchestra
Joe Miller, Director of Choral Studies, CCM
Ken Weiss, Domingo/Cafritz Young Artist Program, Washington National Opera
Brian Raphael Nabors, Composition faculty, National Orchestra Institute
Michael Fiday, Professor of Composition, CCM
Conductors (see Note for Conductors for additional information):

Participant: $1,500/week
Apprentice: $800/week
Auditor: $500/week

Singers: $500/week (10% discount for two weeks)
Pianists: $500 (July 19-26 Bootcamp Opera Gala only)
Composers: $600/week (July 26-August 1 Conductor & Composer Bootcamp – Celebrating Diversity only)
Applications will be accepted until all positions are filled. Scholarships, both full and partial, will be awarded to singers for leading roles based on application materials submitted via Get Acceptd.
Contact CCM Summer Programs with any questions at 513-556-5609 or ccmsummer@uc.edu