Performance Opportunities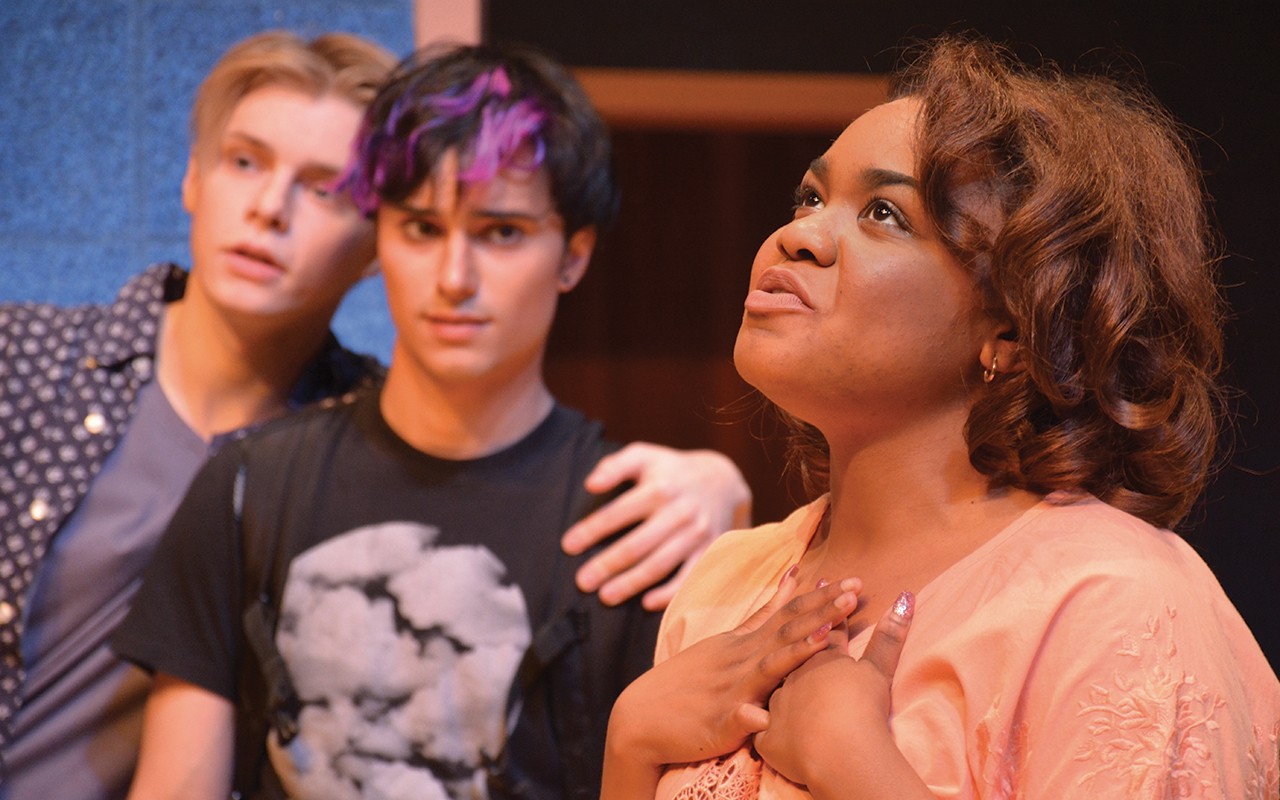 Declared "one of the top 25 undergraduate drama schools" in the world by The Hollywood Reporter, CCM produces films, classical and contemporary shows, as well as devised and new works.
For the most up to date information on ticketed CCM Acting performances, visit our CCMONSTAGE e-box office.
CCM's production season is integrated with our curriculum, so all students have the opportunity to perform regularly.
Students have an opportunity to perform in CCM's state-of-the-art theatres. They also have access to rehearsal halls, a scene shop, a costume shop, a make-up lab and dozens of practice rooms, teaching studios and general purpose classrooms. Facilities also include a proscenium theatre, a thrust stage, a new vocal arts center, a space dedicated for master classes in all performance areas, a concert hall and a versatile "black box" studio theatre.
Yes, the performers are students. But the fact is, to even get into CCM, you've got to be good. Very good. The likelihood of an excellent performance experience is very high.
Cincinnati Enquirer
Students earn academic credits by acting in CCM's productions. As of the sophomore year, all students are required to audition for every show produced by CCM Acting, which typically includes four full-length plays a year.
Visit our CCMONSTAGE e-box office for more information on the ticketed plays that CCM Acting will present this year. 
Richard E. Hess, producer
The 48-Hour Film Festival at CCM challenges teams of UC students to create short films over a single weekend. Any UC student is invited to participate in the annual festival.
Students must submit an application to CCM Acting Professor Richard E. Hess to participate. All students who apply will be placed on a team.
"From experienced filmmakers to first-time novices, and serious film lovers to curious dabblers, there is room for everyone on a team," Hess says. "Any UC student who applies is placed on a team, no experience necessary."
The clock starts ticking at 7 p.m. on the Friday of Festival Weekend, when participants are randomly assigned to teams of eight to ten students each. The teams are each given a prop, a line of dialogue and a theme that they must use to create a short film that is five to seven minutes long.
The festival culminates at 7 p.m. on Sunday in a free public screening of each team's film at UC's MainStreet Cinema in the Tangeman University Center.
Send your application and any questions to CCM Acting Professor Richard E. Hess at hessre@uc.edu. Applications are due by 5 p.m. on Monday, Oct. 21, 2019.
Your application must include your name, college and year of study, e-mail contact, mobile contact and area of interest for the festival.
Participants will be randomly divided into teams based on what their areas of interest to ensure that various skill sets are represented in each team.
Areas of interest include (You may choose one only. List a second choice if you would be happy with either/or, depedning on need):
Director of Photography
Director
First Assistant Director
Editor
Producer
Grip
Audio
Composer
Lead Writer
Actor
Production Design
Make-Up Design
Costume Design
Prop Design
From freshman through senior year, every CCM Acting student has the opportunity to participate in Transmigration: A Festival of Student-Created New Works. Students are randomly placed on a team of students to write, create, produce and perform an original 30-minute performance presented in festival format.
Students also have the opportunity to act and collaborate with writers during the Playwright's Workshop, which commissioned four radio plays in 2021.
In 2018, students devised H20: A Play About Water, a 60-minute theatrical journey performed by a cast of 23 students. The play was created by 30 students from CCM Acting, Musical Theatre and Theatre Design and Production. It was presented at CCM's Cohen Family Studio Theatre and in the Cincinnati Fringe Festival. Faculty and students also traveled to Scotland to perform the play at the Edinburgh International Fringe Festival.