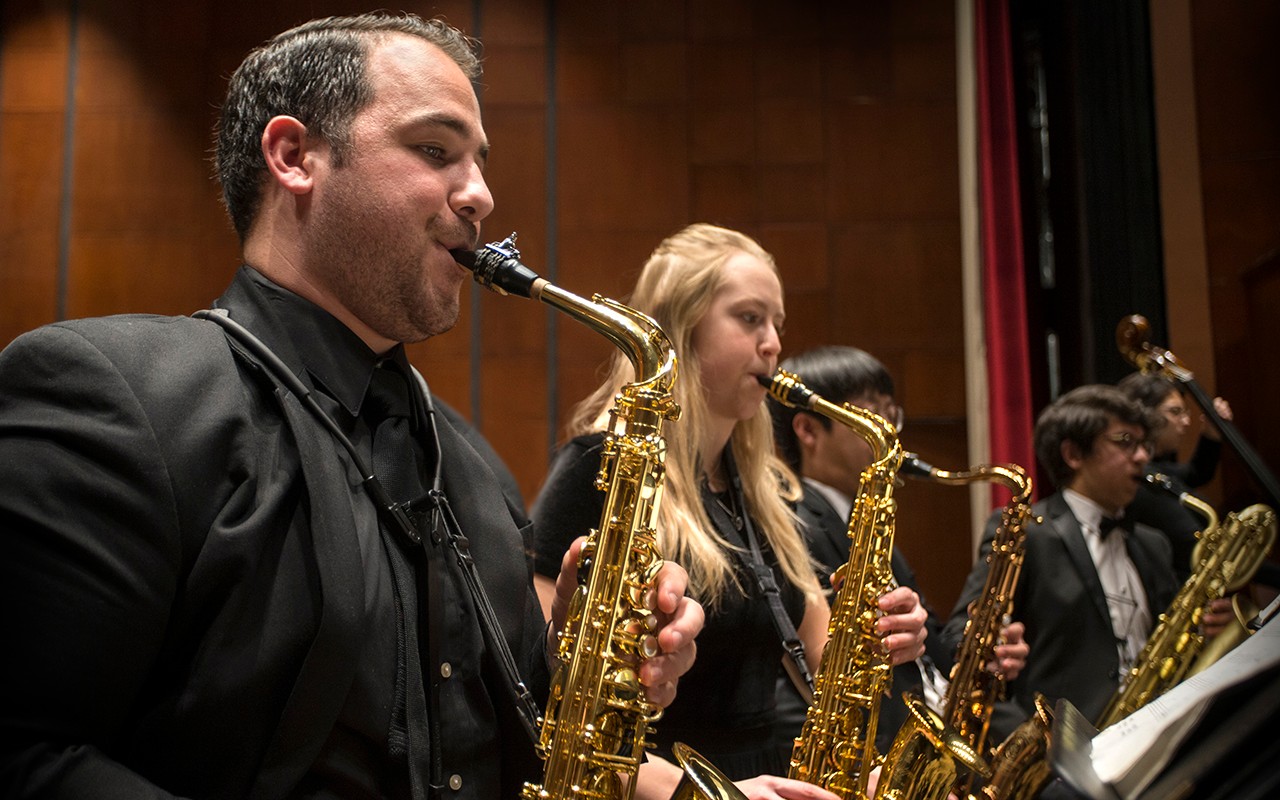 CCM offers Bachelor of Music in Jazz Studies, Bachelor of Music in Saxophone, Master of Music in Saxophone, Master of Music in Jazz Studies with a major in Saxophone and Doctor of Musical Arts in Saxophone degrees.
Saxophone majors receive ample performance opportunities with CCM's wind ensembles, jazz ensembles, saxophone quartets, jazz combos, symphonic orchestras, musical theatre orchestras and contemporary music ensembles.
If you are interested in pursuing a degree in Jazz Studies on the saxophone, please visit the Jazz Studies website.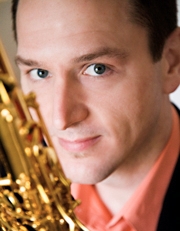 James Bunte
,
Associate Professor of Saxophone; Division Head, Performance Studies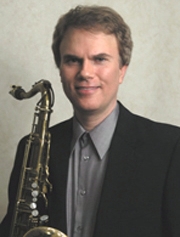 Rick _ VanMatre
,
Adjunct Professor of Jazz Studies and Saxophone; Professor Emeritus
CCM's admissions process begins on August 1 (undergraduate) and September 1 (graduate) for entrance in the following year's fall semester. All application materials must be submitted on or before December 1 to be considered for specific scholarship awards. Visit the CCM Admissions website for additional application instructions.
Applicants must submit the required pre-screening materials via getacceptd.com/ccm on or before December 3 in order to be considered for admissions and invited for an audition.
Pre-screening Requirements
Two Ferling etudes, one slow and one that displays technical skills 
Two contrasting movements of alto saxophone solo literature. Suggested solo literature includes:

Sonata by Paul Creston

Concertino da Camera by Jacques Ibert

Concerto by Alexander Glazunov

Prelude, Cadence et Finale by Alfred Desenclos 

You may also include an example of jazz improvisation skills on the tune of your choice
Two contrasting solos - one selection should be a major piece from the standard repertoire (e.g. Maurice, Glazounov, Creston, Ibert) 
Scales and arpeggios
Sight reading
The BM saxophone curriculum is flexible and may consist of classical study exclusively or a combination of classical and jazz study. A jazz selection is optional for the audition. See jazz studies for more information on the BM in jazz saxophone. 
Candidates may contact Professor James Bunte if they would like to include a piece not listed above.
Applicants must submit the required pre-screening materials via getacceptd.com/ccm on or before December 3 in order to be considered for admissions and invited for an audition.
Pre-screening Requirements
Each candidate must prepare the first movement from the following work: Concertino da Camera by Jacques Ibert

Prepare two contrasting works from the standard solo literature. Suggested solo literature includes:

Concerto by Ingalf Dahl
Concertino da Camera by Jacques Ibert
Prelude, Cadence et Finale by Alfred Desenclos
Caprice en Forme de Valse by Paul Bonneau
Sonata by William Albright
Lilith by William Bolcom 
Sequenza IXb by Luciano Berio
Fuzzy Bird Sonata by Takashi Yoshimatsu

Candidates are strongly encouraged to include one composition written after 2000 on their audition
You may also include an example of jazz improvisation skills on the tune of your choice
Currently enrolled CCM students applying for a new graduate degree must submit a headshot and resume by December 1.
Two or three contrasting solos. One selection should be a major piece from the "classic" repertoire (e.g. Ibert, Dubois, Desenclos) and one selection should be a piece written after 1980 (e.g. Lennon, Bolcom, Albright). 
Scales and arpeggios 
Sight reading
Ensemble excerpts are optional
The MM and DMA saxophone curricula are flexible and may consist of classical study exclusively or a combination of classical and jazz study. A jazz selection is therefore optional for the audition. 
The MM in jazz saxophone is a separate degree focusing on jazz. For these audition requirements see jazz studies.
A native of Colorado, Dr. James Bunte has earned degrees from the University of Colorado at Boulder (BM, BME), and CCM (MM, DMA). As a concert saxophonist, James Bunte is an active recitalist, giving recitals and master classes throughout the United States and most recently France, and Japan. Having presented his Carnegie Hall debut in 2006, he has performed at NASA (North American Saxophone Alliance) regional, national, and world saxophone conferences, recently Thailand, and Taiwan.

Dr. Bunte is the regular saxophonist with the Cincinnati Symphony Orchestra and has recorded eight compact discs with the Cincinnati Symphony and Cincinnati Pops. Bunte has performed with the Lyrique en Mer Orchestra (France), Louisville Philharmonic, Dayton Philharmonic, Eugene Symphony, Charleston Symphony, Richmond Symphony (IN), Kentucky Symphony, Springfield Symphony (OH) and the Colorado Music Festival Orchestra. Recent CD releases include the premier CD from Oasis Quartet on the Innova label.

Bunte is also an experienced jazz musician, having toured with the Glenn Miller Orchestra and Royal Caribbean Cruise Lines; and having performed with Ray Charles, Manhattan Transfer, New York Voices, Dick Hyman, Byron Stripling, John Pizzarelli, Stefan Carlsson, Cook, Dixon and Young, and the Tommy Dorsey Orchestra. Bunte has been on the faculty at the University of Oregon, Miami University (OH) and Northern Kentucky University, but he also has public school experience at a Kentucky high school. James Bunte is a Yamaha and Vandoren Artist.
Jeremy Castañeda studied saxophone performance at CCM with Dr. James Bunte. During his time at the school, Castañeda performed as a member of the Wind Symphony and two graduate saxophone quartets: The 3-2-5 Quartet and the Promethean Quartet (the latter of which was a 2013 Finalist at the prestegious Coleman Chamber Competition in Pasadena, California).

As an educator, Castañeda taught music education at an Indiana school from 2010-2011. He also taught private lessons to students at local high schools and middle schools. He received his Bachelor of Science degree in music education at Ball State University, where he studied saxophone with Dr. George Wolfe and performed with various ensembles including the Ball State Saxophone Quartet, Symphony Band, Wind Ensemble, Marching Band, and Jazz Ensembles. Castañeda was also a frequent guest performer at the prestigious Chautauqua Institution during his undergraduate studies.
Castañeda won numerous concerto competitions and performed featured solos with large ensembles while attending Ball State University. He was a selected winner of the Ball State Undergraduate Concerto Competition in 2008 and performed Henri Tomasi's Concerto for Alto Saxophone and Orchestra with the Ball State Symphony Orchestra. Castaneda also won the Kokomo Park Band Student Solo College Division Concerto Competition in 2008 and performed Paul Creston's Concerto for Alto Saxophone and Band with the Kokomo Park Band. Castañeda also won first place for the Kokomo Symphony Orchestra's Young Artist Senior Division Concerto Competition in 2008. He performed Henri Tomasi's Concerto for Alto Saxophone and Orchestra with the Kokomo Symphony Orchestra in 2009 and also performed Catch Me If You Can by John Williams featured for Alto Saxophone and Concert Band during his undergraduate studies.

Castañeda was a recipient of the Dale Baker Scholarship and the Brian Minor Scholarship while attending Ball State University. He is an alumnus of the music fraternity Phi Mu Alpha Sinfonia and is a member of the North American Saxophone Alliance.
Brandon Jinwoo Choi is in great demand as an international soloist and he has appeared across three continents, in France, Germany, Italy, Australia, Korea, Japan, and United States. As a soloist, he has performed with ensembles including The Rumania Ploiesti State Philharmonic Orchestra, Chung-ang University orchestra, Chuang-Ang University Wind Orchestra, Korea M Philharmonic Orchestra, the Korea Navy band, and in the great halls of the Seoul Art Center with Chung-Ang University Wind Orchestra. Choi also gave the world premiere of Sull'ala Concerto for Saxophone by Susan Botti with the University of Cincinnati College-Conservatory of MusicWind Orchestra on March 13th, 2014. 
Choi regularly attends the regional, national conferences and several of the world's most prestigious fine arts conferences including 36th International Navy band saxophone symposium at the George Washington University, the North American Saxophone Alliance (NASA) Biennial National Conference at the University of Illinois, North American Saxophone Alliance Region V Conference at Bowling Green State University, College Band Directors National Association at the North Carolina State University, France International saxophone Institute at Saint-Meur, Paris -Conservatory of Music and Yamaha saxophone institute, American Saxophone Academy at the Eastman Music University.
As a Chamber Musician Choi is currently Saxophone Chair of Miclot Production Players Group and alto saxophone of The Promethean Quartet. The Miclot Production first began in 1993, Sunnyside, New York. Miclot is still running its production annually, hoping to further expand Christian culture by delivering the "Small Voice" of God. Meanwhile, Promethean's debut album, Through Adam`s Fall, was released in October 2013 and features music by Alfred Desenclos, David Maslanka and Percy Grainger. The Promethean Quartet has received numerous honors, including selection as one of the top four wind ensembles in the finals of the Alice Coleman National Chamber Music Competition (2013). The promethean Quartet completed a five-state tour in 2013, including several performances and master classes at public schools and universities. 

Choi has won top prizes in many national and international competitions, including 1st Prize Concerto Competition (Sull'ala Concerto for Saxophone and wind Orchestra) at The University of Cincinnati College-Conservatory of Music, The MTNA Ohio Competition, The MTNA Ohio Chamber competition, The Korean American Youth Cultural foundation competition (1st prize), The Hanjeon Artspool Center Competition (1st prize),The Korea Wind Chamber Music Competition (1st prize),The Music Association of Korea Competition (1st place), The Music Education Newspaper Competition (1st prize),The Haneum National Music Competition, 1st prize, The Seoul National Symphony Orchestra Competition, 1st prize. 
Choi took several the Master classes and Lessons from honorable professors such as Claude delangle, Arno Bornkamp, Nobuya Sugawa, Jean-yves Fourmer, Christan Writh, Philppe Portjoe, Nicola Prost, John Sampen, Tom Myer, Otis Murphy​, Chein-kwan lin, Timothy Mc Alister, Kenneth Tse, Carrie Koffman, Jeremy Long, Stephen page.​
Choi earned his DMA at CCM, where he previously earned his Master of Music degree in Saxophone performance. He also holds a Bachelor of Music degree from Chung-Ang University in South Korea. His teachers include Dr. James Bunte, Rick VanMatre, Soon sub Jung, and Jong sun Eun. Learn more about Choi by visiting www.brandonjinwoochoi.com
Joe Craig joined the Beechwood High School Music Faculty in the summer of 2006 as the Associate Director of Bands. Most recently, Mr. Craig assumed the title of Director of Bands in the summer of 2009. During Mr. Craig's tenure, students at Beechwood have achieved several accolades. The Bands under Mr. Craig's direction consistently received distinguished ratings at KMEA Concert Band Festivals. The Jazz ensemble has been the top performing group at the Northern Kentucky Jazz Festival for the past five years, and was most recently selected to perform at the 2010 KMEA Conference. This is the first group in Beechwood history to achieve this prestigious honor. The Beechwood marching band has also been a consistent State Finalist, BOA Semi-Finalist, 3-time KMEA State Champion, and a 2-time BOA Class A National Champion during Mr. Craig's time at Beechwood. Students from Beechwood have also achieved many individual honors, including numerous Select Bands, All State Groups, and college scholarships. Mr. Craig is also an active private lesson instructor, teaching privately for the past 12 years.

Mr. Craig received his Bachelors Degree in Music Education from Northern Kentucky University (2004) and his Masters Degree in Saxophone Performance at the College Conservatory of Music (CCM) at the University of Cincinnati (2006). Mr. Craig has performed with the Cincinnati "Pops" Orchestra, the Kentucky Symphony, the CCM Wind Symphony and Jazz Ensemble, the Kentucky Intercollegiate Concert and Jazz Ensembles, and the NKU Symphonic Winds and Jazz Band, and numerous local professional groups and big bands. During his collegiate career, Mr. Craig was a featured soloist at NKU and CCM, full scholarship recipient at both NKU and CCM, and a concerto competition winner. Mr. Craig also performed and competed at the 2002 and 2006 North American Saxophone Alliance conferences. In 2007, Mr. Craig was awarded the "Certificate of Merit for Marching Excellence" by the National Band Association. Mr. Craig is a Northern Kentucky native, and a graduate of Scott High School in Taylor Mill.
Joe Duran studied saxophone with James Bunte, Brent Gallaher, and Rick VanMatre. His other saxophone teachers have included Jim Free, Gene Marquis, and Daniel Puccio. In addition, he studied composition with Paul Brewer, Kim Pensy, Paul Piller, and Scott Belck, as well as piano with Phil DeGreg.
As a performer, Joe served in various capacities including lead alto in the CCM Jazz Lab Band, CCM combos, CCM Spoleto Jazz Ensemble, and the Interlochen Big Band. He has also been a featured soloist at CCM Saxophone Day and worked with (among others) The Joneses, The Bevadores, Mike Wade's Jazz Ambassadors, and the British Broadcasting Corporation. For his playing, Joe has received outstanding awards for jazz from Interlochen and numerous festivals.
Along with saxophone, Joe Duran is proficient on several other instruments, including piano, clarinet, and flute. He is also active as a composer, songwriter, and arranger, working with several CCM ensembles such as the Brazilian Ensemble, Lab Band, Jazz Ensemble, and saxophone quartet. Further collaborators include the Third Stream Orchestra, Ed Moss' Society Jazz Orchestra, Sycamore High School Theater Department, Interlochen Faculty Jazz Ensemble, The Cincy Brass, and Good Shepherd Foreign Ministries (for whom he has taught songwriting seminars).
Joe has also scored and produced films (including several submitted to the Sundance Film Festival) since the age of seventeen.

Brent Gallaher is a Cincinnati, Ohio based saxophonist and has resided there since 1988. He is an alumnus of the University of Cincinnati College-Conservatory of Music and was featured on their album Carnival of Life, which was released by Alissa Records in 1994. While attending CCM, Gallaher took a brief hiatus to join the Glenn Miller Orchestra. He toured with the ensemble from 1991–1992 and can be heard on their 1992 album Here We Go Again. He returned to Cincinnati and CCM in 1992 and in 1994 completed his bachelors degree in Jazz Performance.
In November 1998, Gallaher was called to tour with the Tommy Dorsey Orchestra under the direction of Buddy Morrow. Gallaher was with the Dorsey band for just under a year. He returned to Dorsey in 2000 and was with them for an additional seven months.
Gallaher has since been working as a freelance musician, private instructor and clinician. Locally, Gallaher has performed with the Blue Wisp Big Band, Cohesion Jazz Ensemble, Cal Collins, the Phil DeGreg Trio, the Lou Lausche Quartet, the Ron Enyard Trio, Wilbert Longmire, Ed Moss Society Jazz Orchestra and the Psychoacoustic Orchestra. The Cohesion Jazz Ensemble and The Psychoacoustic Orchestra are featured on J-Curve's Cincinnati Jazz Collection Vol. 1 (1998) with Gallaher as a member. Gallaher also recorded with the Psychoacoustic Orchestra on Blackstone's Hidden Treasures—Cincinnati's Tribute to King Records' Legacy (2003).
In August of 2003, Gallaher completed the recording of his first CD Vanessa's Song and it was released in March of 2004. This CD features the talents of Jim Connerley on piano, Jim Anderson on bass and Tony Franklin on drums. Gallaher recorded with Over the Rhine in the fall of 2004, for their album Drunkard's Prayer. He can also be heard on The Jazz Circle's debut CD Joshua, which was released March of 2006.
March 2010 marked the release of Gallaher 's second recording project titled Lightwave. This features the talents of Dan Karlsberg on piano, Steve Whipple on bass and Anthony Lee on drums.
Presently, Gallaher continues to freelance and can be heard with a wide variety of groups including the the Masterworks Jazz Orchestra, The Vintage Keys Project, Tropicoso, the Pete Wagner Orchestra, the Blue Wisp Big Band, the Art Gore Quartet and the Cincinnati Pops.
Since earning an undergraduate degree from Central Michigan University (BM) and a Masters degree from CCM (MM), Jennifer Grantham has been an active teacher and musician in the Cincinnati area. She is currently the Jazz Area Coordinator for Xavier University, and serves as Adjunct Saxophone Professor and Jazz Ensemble Director at the College of Mount St. Joseph.  Jennifer is in her ninth year as Saxophone Instructor at the CCM Preparatory Department, where she founded the Summer Jazz Band Camp and Saxophone Symposium, directs the Combo Program and was recently selected as the Jazz Area Coordinator. Outside of these positions, Jennifer maintains a private studio of 35 students, and presents master classes on a variety of topics.

As a classical musician she has performed at several national, regional, and international conferences of the North American Saxophone Alliance, World Saxophone Congress, and Ohio Music Educator's Association. She has also performed with the Seven Hills Sinfonietta and Kentucky Symphony Orchestra. As a jazz and commercial musician, she performs in a variety of groups and styles, including her own jazz groups, Orquesta Kandela, Azucor Tumbao and Souse.
Lindsey Jacob is a composer and saxophonist currently residing in Cincinnati, Ohio. At CCM, she studied composition with Michael Fiday and saxophone with James Bunte. Former composition teachers include Stephen David Beck, Dinos Constantinides, Mara Helmuth, David Schneider and John Steffa, and former saxophone teachers include Griffin Campbell and Scott Erickson.
She holds an MM in Composition from Louisiana State University in Baton Rouge, Louisiana and graduated summa cum laude with a BM in Education from Murray State University in Murray, Kentucky.
Lindsey is an avid performer, composer, and advocate of contemporary works. Currently, she is an active member of the Cincinnati Composers Laptop Ensemble Project (CiCLOP) and in 2009–010, she was a member of the Laptop Orchestra of Louisiana, a research and performance ensemble at Louisiana State University. She also frequently premieres and performs her own solo saxophone works, as well as pieces by fellow contemporary composers.
Many of her recent compositions explore elements of timbre and feature transcriptions and adaptations from natural sources, specifically human speech patterns and bird songs. Her compositions encompass works in several mediums, including chamber ensemble, fixed media, live electro‐acoustic music, symphony orchestra, wind ensemble, chorus, as well as solo works for saxophone, bass clarinet, classical guitar and percussion.
Lindsey is an advocate for contemporary music and generates opportunities for new music to be heard by diverse audiences. As a former president (2009–010) of the Mid‐South Chapter of the National Association of Composers/USA (NACUSA), Lindsey organized concerts of new music (including her own works) throughout Louisiana, specifically events at Louisiana State University, Louisiana Tech University, the Baton Rouge Gallery and the Open Ears Music Series in New Orleans.

New York and Boston based saxophonist Geoffrey Landman is a performer, teacher, and advocate of the saxophone and new music. Having performed across North America, France, Germany, Switzerland, Thailand, and in some of New York City's most well-known music venues, he has collaborated with ensembles such as Either/Or, Talea Ensemble, the Metropolis Ensemble, Fireworks Ensemble, Opera Cabal, and New Thread Quartet.

Geoffrey has worked with composers such as Bernhard Lang, Christian Lauba, Karin Rehnqvist, Richard Carrick, Roberto Kalb, Anthony Gatto, and Davíd Brynjar Franzson among others. Geoffrey holds degrees from the University of Michigan (BM), University of Cincinnati College-Conservatory of Music (MM), Post-graduate work at the Musik-Akademie der Stadt Basel in Switzerland, and is currently working toward his Doctoral degree at the New England Conservatory as the first DMA candidate in saxophone performance in the schools history. His principal teachers are Donald Sinta, Marcus Weiss, James Bunte, and Ken Radnofsky.

Geoffrey has won many competitions including Yamaha Young Performing Artist Competition, University of Cincinnati College-Conservatory of Music Concerto Competition, Cincinnati Arts Association Overture Award, as well as prizes at the Fischoff National Chamber Music Competition.
Currently, Geoffrey is pursuing his DMA at the New England Conservatory of Music. Click here to visit Geoff's website
Kristin Lin studied with Dr. James Bunte and was the soprano and alto player in the Fjroshior Quartet (the 2011-2012 undergraduate quartet at CCM). She grew up in Cincinnati, Ohio. Kristin is a '09 Lakota West High School graduate, and participated in their jazz, concert, and marching band; she played lead alto sax in both the top jazz and concert band, Symphonic Winds. She also was field commander of the Marching Firebirds for two years, attending the Rose Parade with them in 2008. Kristin has studied saxophone with Chris Brandenburg and Herb Aronoff; she also studied piano with Sheila Vail for nearly ten years.
Recently, Kristin worked with Dr. Bunte and Jennifer Grantham in developing the CCM Saxophone Symposium, a summer program for local middle and high school students. In 2011, the first year of the symposium, Kristin worked as a staff member, playing in the ensemble and co-coaching the middle school quartet with Geoff Landman. The same year she also worked with Dr. Ann Porter in the Summer Band Experience, another summer program offered through CCM. In 2012, Kristin participated in the second CCM Saxophone Symposium as a faculty member, coaching the middle school quartet and leading the large ensemble. Kristin is also the 2011-2012 student intern for the CCM Prep group Cincinnati Youth Jazz Orchestra, CYJO, under the direction of Todd Hartman.
As a future music educator, she hopes to inspire students to excel beyond the obvious. She also wishes to demonstrate that music and learning are beyond the classroom.
Kevin Norton earned his DMA in saxophone at the University of Cincinnati's College-Conservatory of Music (where he studies with Dr. James Bunte). He is currently a private instructor in the Cincinnati metro area, primarily at Walnut Hills High School and the Indian Hill Performing Arts Academy. During the 2012-13 school year, he was also an Adjunct Professor (teaching Intro to Music and music history) at The Defiance College in Defiance, Ohio.
At CCM, he also earned a cognate in Romantic and twentieth-century musicology. Most recently, he had an article published (concerning the so-called "Shostakovich Wars") in the July 2013 edition of DSCH Journal.
A native of Williamsburg, Kentucky, Kevin previously studied at Morehead State University in Morehead, Kentucky under Dr. Nathan Nabb and Prof. Eugene Norden.  At Morehead, Kevin earned a Bachelor's degree (Summa cum laude) in Music Education and a Master of Music in saxophone performance.
He has participated in several honors ensembles, including the Kentucky Intercollegiate Band and the CBDNA Southern Division Honors Band.  He has also performed (both solo and with quartets) at several previous NASA events: regional conferences at the University of North Carolina-Greensboro (2007), Northeastern Illinois University (2011) and Bowling Green State University (2013); the 2008 national conference at the University of South Carolina; the 2010 national conference at the University of Georgia; the 2012 national conference at Arizona State University; and the 2014 national conference at the University of Illinois.
In addition, Kevin has actively premiered several new works for saxophone. As a member of the CCM Graduate Saxophone Quartet, helped premiere composer Matthew Browne's work "Two Pieces" at the 2011 Navy Band Saxophone Symposium at George Mason University. A year later, he (as a member of the 3-2-5 Quartet) premiered Amber Autumn by CCM composer Carrie Magin at the Arizona State conference. Most recently, Kevin gave the world premiere of composer Ian Dicke's soprano sax arrangement of his Chapter One, Page One at the 2014 NASA conference. His latest commission is a work by Brandon Nelson for soprano saxophone and piano entitled PRN.
Kevin Norton is a current member of the Prestalgia Duo along with Jennifer Grantham (saxophone professor at Xavier University and CCM alumnus). Together, they were members of a consortium (headed by the Ogni Suono duo) that commissioned Ian Dicke's work Straphanger (for tenor and baritone sax); the Prestalgia Duo gave the Region 5 premiere of the work at the 2013 conference at Bowling Green. Kevin and Jennifer also actively perform together in the Cincinnati area, most recently in April 2014 for the Cincinnati version of Classical Revolution.
Saxophonist and pedagogue Neal Postma holds degrees from CCM (MM) and the University of Colorado (BM). As a concert saxophonist Neal has performed across the United States and China giving performances in such venues as Los Angeles' Walt Disney Concert Hall, The Newman Center for the Performing Arts, The Idyllwild  Performing Arts Center and has given recitals at universities and various regional, national and international conferences. His primary teachers are Dr. James Bunte, Tom Myer, and Dr. Alan Durst. Neal is a P. Mauriat endorsing artist and performs exclusively on their saxophones.

As an educator Neal currently holds the position of MYP Director of Western Music at the Guangdong Country Garden International School (an IB accredited school) near Guangzhou, China. He is also sought after as a clinician having given masterclasses across the US.
As a soloist he has been featured most recently on a tour of performances premiering Matt Browne's Three Doggerel Dances for Soprano Saxophone and Concert Band, at the Idyllwild Music Festival on his second solo performance, North American Saxophone Alliance Regional Conferences, The United States Navy Band International Saxophone Symposium, and with the University of Colorado Saxophone Ensemble on several performances of Jacque Ibert's Concertino Da Camera. He has also appeared as the principal/soprano saxophonist with the Idillwild Wind Ensemble, and performed at the Blue Wisp Jazz Club in Cincinnati, OH.
Following being a soloist with the Denver Young Artists Orchestra, Neal was asked to do a segment on playing saxophone with an orchestra for Colorado Public Radio.
Active in the musical theater scene, Neal has performed various shows with the Colorado Light Opera and Footlighters Inc. performing on saxophone, flute and clarinet.
An avid proponent of new music Neal has commissioned and premiered solo and chamber works by composers Brendan Keenan, Matthew Browne, Greg Simon, and Hunter Ewen.
Over the past 7 years, saxophonist Michael Shults has been "making strong impressions" on the Kansas City jazz scene according to the Kansas City Star, and has been praised for his "strong, imaginative work" by Downbeat Magazine. Michael was the winner of the "Graduate College Soloist" category in the June 2012 edition of Downbeat Magazine's annual Student Music Awards. Earlier in 2012, he finished in third place in the North American Saxophone Alliance's bi-annual Jazz Artist competition.
Recent performances include dates at notable clubs such as Dazzle Restaurant and Lounge in Denver, the Blue Wisp in Cincinnati, Jardine's and the Blue Room in Kansas City, a 2009 summer tour of Colorado, and a live radio show alongside saxophone legend Bobby Watson for KCUR's 12 O'Clock Jump program. Michael also appeared on Watson's critically acclaimed 2010 release "The Gates BBQ Suite" which received favorable reviews from Downbeat Magazine and the Wall Street Journal, and reached as high as #4 on the Jazzweek National Radio Airplay charts.
Comfortable in many styles of music, Shults performed a new work for unaccompanied classical saxophone by invitation at the University of Iowa Festival for New Music in the spring of 2010. Michael earned dual BM degrees in Saxophone Performance and Jazz and Studio Music from the University of Missouri-Kansas City Conservatory of Music and Dance, where he studied with noted saxophonists Bobby Watson, Tim Timmons, and Dan Thomas. He recently completed his MM degree in jazz studies at the prestigious University of Cincinnati College-Conservatory of Music. Visit Michael's website
Rick VanMatre is Adjunct Professor of Saxophone and Professor Emeritus of Jazz Studies at CCM. He has presented solo recitals and jazz club performances in the US, Europe, Israel, Brazil, and Asia. He is widely recognized for bringing a unique, identifiable voice to a variety of genres. In addition to leading his own ensembles with original music, his collaborations have included commissions and premieres of unique crossover works featuring art installation, aleatoric computer music, organ, vocal ensemble, Indian music, drama, and multimedia presentations entitled "Earthkind-Humankind" showcasing poetry and dance. He has performed with such diverse ensembles as the Duke Ellington Orchestra led by Mercer Ellington, the Woody Herman Orchestra led by Frank Tiberi, Roland Vazquez's contemporary Latin groups, and artists like John McNeil, Tim Hagans, and Gene Bertoncini. Recordings as featured jazz soloist include the PsychoAcoustic Orchestra, the Kim Pensyl Ensemble, the Cincinnati Pops Orchestra, Manhattan Transfer and John Pizzarelli. As a classical saxophonist, he has recorded interactive drama/music videos with composer/bassist Frank Proto, has appeared with the Cincinnati Symphony Orchestra, Rochester Philharmonic, concert:nova, and James Conlon's Linton Series, and has been a concerto soloist with the New York Repertory Orchestra, Cincinnati Chamber Orchestra, Sichuan Symphony Orchestra (China), Sheboygan Symphony Orchestra, Middletown Symphony, and Illinois Philharmonic. He holds the soprano chair in the New Third Stream Saxophone Quartet, an innovative ensemble combining jazz and classical elements. The Chicago Star has written that "VanMatre's art is without comparison; his technique exact, yet smooth, his expression poignant and personal," and the Cincinnati Enquirer has stated that his "artistry was seamless, technically superb and musically inventive...His musicianship was so effortless." VanMatre is also active as a conductor and has directed programs on American Jazz Radio Festival, NPR, and for artists like Kenny Garrett, Slide Hampton, Joe Henderson, Ahmad Jamal, David Liebman, Jim McNeely, Joshua Redman, Kenny Werner, and Kenny Wheeler. In the field of broadcasting, he served as the on-air host and interviewer for the nationally syndicated radio series "Jazz - Live From the Hyatt" featuring artists like Joe Lovano and John Clayton.

Formerly as CCM's Director of Jazz Studies, VanMatre was responsible for expanding the BM in Jazz, creating the MM in Jazz Studies and the DMA in Saxophone, and establishing the Jazz Recording Studio. He also headed the CCM Visiting Artist Series, one of the most extensive in the nation, including over 150 important jazz performers and composers such as Wynton Marsalis, Christian McBride, Maria Schneider, George Duke, and Eddie Daniels. As conductor of the CCM Jazz Ensemble, he produced five CD recordings for Sea Breeze Records. Serenade in Blue received a first round Grammy nomination and was described by Cadence magazine as a "necessary part of any big-band enthusiast's library" and Jazz News praised Carnival of Life as being "performed with conspicuous elegance and precision."

He has presented performances and lectures for the International Association for Jazz Education, Music Educators National Conference, North American Saxophone Alliance, World Saxophone Congress, Jamey Aebersold Summer Jazz Clinics, International Summer Jazz Academy in Warsaw, Poland, and for universities and conferences in Europe, China, Thailand, and Brazil. He has written for Saxophone Journal, has served as Executive Board Member and Jazz Coordinator for NASA, was President of the Ohio Unit of the National Association of Jazz Educators, and was on the Editorial Advisory Board for the Saxophone Symposium. He has been named "Best Jazz Musician" by Cincinnati Magazine, a "reed titan" by Midwest Jazz magazine, "technically superb and musically inventive" by the Cincinnati Enquirer, Ohio Jazz Educator of the Year by NAJE, and the "Ernest N. Glover Outstanding Teacher" by CCM students. His undergraduate studies were at the College-Conservatory of Music and Berklee College of Music, and he received his MM (Jazz Studies and Contemporary Media) from the Eastman School of Music. Many of his former students are active performers throughout the nation and others hold teaching positions at universities. Mr. VanMatre is an endorsing artist for Selmer Saxophones.
Tom Zinninger, a native of Louisville, KY has been an active performer and educator in the Kentucky-Ohio-Indiana areas for the past 10 years. His performance experience has ranged from combo and big band jazz to classical chamber and orchestral music. As a classical saxophonist, Zinninger has recently given performances at the 2011 NASA Region 5 Conference in Chicago, the 2011 Navy Band Saxophone Symposium, and the 2012 NASA national conference at Arizona State University.  He has also been featured with the Frank Simon Band based in Cincinnati, and the Chamber Winds of Louisville. As a jazz saxophonist, Zinninger has performed with the John LaBarbera Big Band and the Don Kreckel Orchestra, as well as numerous performances in a jazz duo, trio, or quartet settings. As an educator, Zinninger has worked at several Louisville and Cincinnati area schools as both a private teacher and small group instructor.
In 2006, Zinninger received his Bachelor's Degree in Music Education from the University of Louisville where he was a member of the Jazz Ensemble, Wind Symphony, Saxophone Quartet, and Marching Band.  While Zinninger's primary teachers were Mike Tracy and John Moore, he also received instruction from renowned jazz educator Jamey Aebersold. In 2009, Zinninger received a Masters of Music in Jazz Studies from CCM; in December 2013, he graduated with a Doctor of Musical Arts degree in saxophone. At CCM, Zinninger performed as a member of the Jazz Ensemble, Wind Symphony, Graduate Saxophone Quartet, and Philharmonia. As a Graduate Assistant, Zinninger directed the CCM Jazz Lab Band as well as several student combos. His graduate teaching responsibilities included teaching private saxophone lessons, and instructing courses in both Jazz Improvisation and Jazz Appreciation.

You can visit Zinninger's website at tomzinninger.com