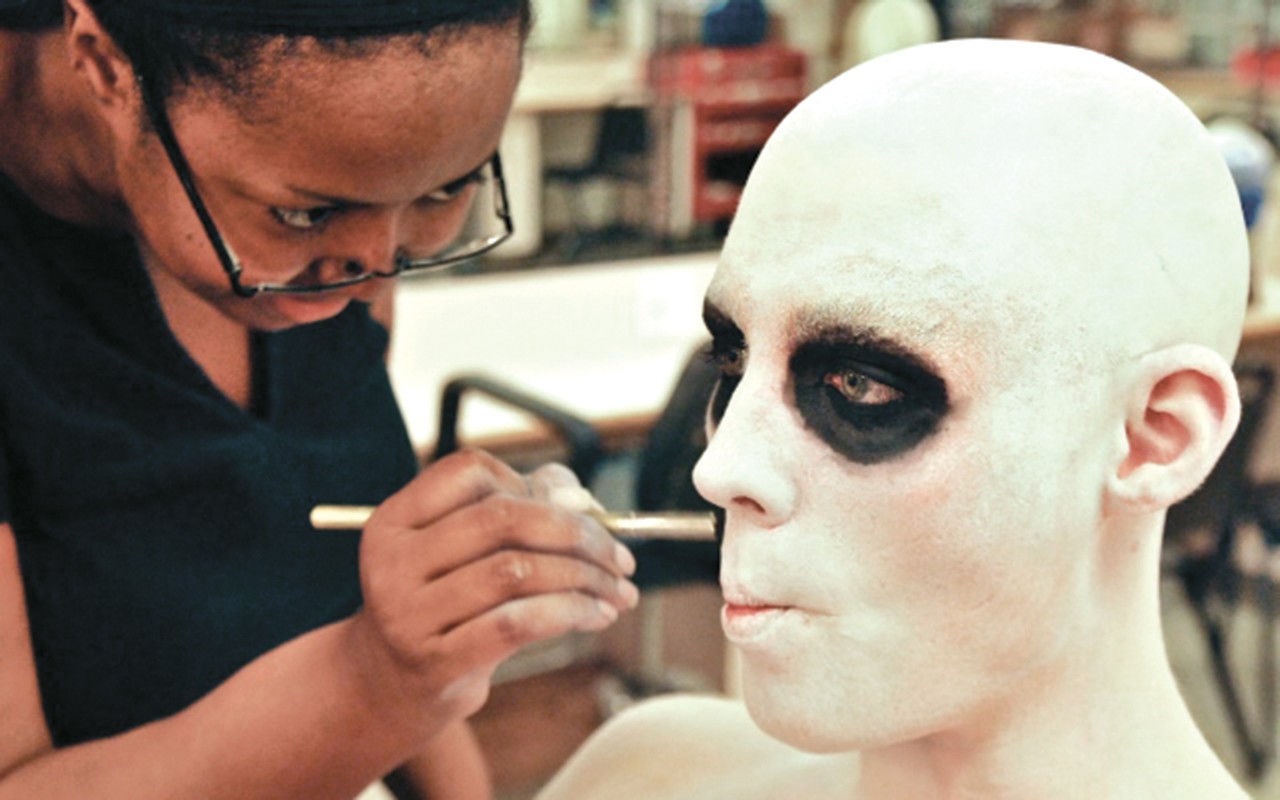 CCM offers a rare and unique MFA in Make-Up and Wig Construction and Design.
Graduate students will commit to 2-3 years, during which time they will expand their art skills in areas including painting, drawing and sculpture. Other classes that are important to a make-up graduate student are history, art history, theatre history and costuming to just name a few. A graduate student in make-up and wigs focuses heavily on design, wig making and styling and make-up and its application. In some instances, a graduate student may be given the opportunity to teach an intro level make-up class.
Students will design make-up and wigs for studio productions, and in some cases a main stage production will be assigned.
CCM graduate make-up majors have found employment in many different areas, including film, television, theatre, opera and photography. Places that have employed our former students include, but are not limited to, Cincinnati Playhouse in the Park, the Utah Shakespearean Festival, the St. Louis Reparatory Theatre, the Old Globe Theatre, the Denver Theatre Center, the Santa Fe Opera, San Francisco Opera, the Chicago Lyric Opera, National touring shows, popular television programs and independent and commercial film companies.
The make-up and wig program at CCM is a very selective program only for the highly motivated individual. We expect a great deal from our students, the pay off being a unique experience like no other. Few programs or institutions can offer the opportunities, experiences and exposures we are able to give our students.
Theatre Design and Production - MFA
Applicants must submit the required pre-screening materials via getacceptd.com/ccm in order to be considered for admissions. The applications for all MFA degree programs will remain open until July 1.

Pre-screening Requirements
Current resume
500-word applicant statement

Use the 500-word statement to express: how you came to your area of theater design and production, what you expect to gain out of the CCM experience, and what direction you intend to go upon graduation. What are your personal and professional goals and how does CCM get you closer to those goals?

Three letters of recommendation
Portfolio (include theatre, artistic, and/or craft work)
Application materials, along with experiences, achievements and long-range goals will be discussed at the applicant's interview. All applicants will interview with faculty from the Theatre Design and Production department.
MFA Interviews should be scheduled directly through the appropriate faculty. Visit the Theatre Design and Production website for the faculty directory.