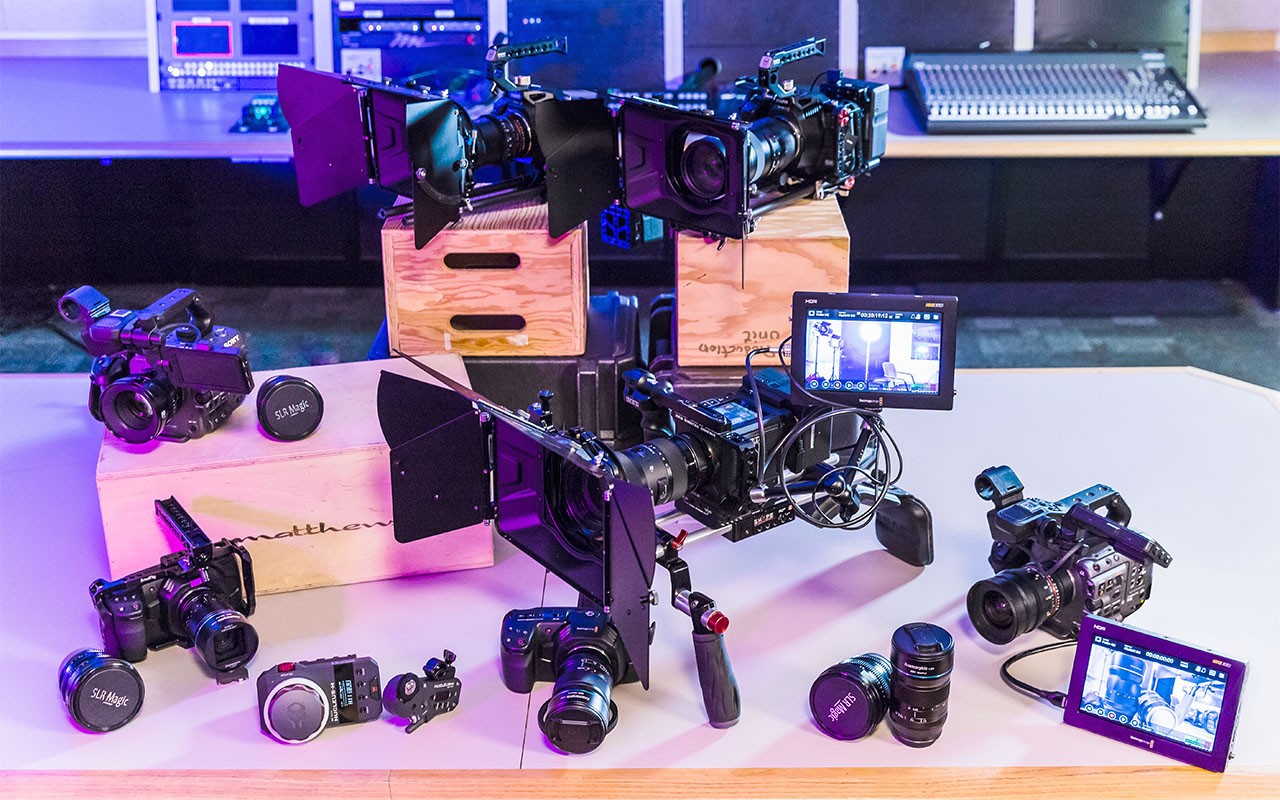 The Media Production program is housed within Mary Emery Hall, which is part of UC's state-of-the-art CCM Village complex for the performing and media arts.
The Media Production facilities provide opportunities for students working within the creative and multidisciplinary artistic environment of CCM. They include a television studio, audio recording studio, 4K Avid Editing lab, Bearcast radio station, multiple audio/video/multimedia workstation labs and state-of-the-art digital cinema cameras, lighting, grip and field audio production equipment. These labs, studios and field equipment are scheduled, maintained and available for student checkout through the Division's Media Production Office, with easy access for student load-in and load-out for remote productions both on and off-campus.
The labs and studios include:
In the state-of-the-art multicamera Bartlett Television Studio, control room and master control area, students work with the Grass Valley GV Director switcher and three high end Grass Valley LDX 80 HD cameras that are controlled remotely via a GV OCP camera control unit through fiber connection. Shows are recorded in 10 bit ProRes to an SSD via the Blackmagic Design Hyperdeck Studio. Students monitor the shows with a 55" multi-view monitor. The studio light grid features IKAN high output LED panels and Fresnel fixtures controlled via an ETC Color Source lighting board.
The Ralph J. Corbett Audio Production Center includes first-class, acoustically treated recording spaces, state-of-the-art multi-track control rooms, digital audio workstations and audio post-production suites using ProTools, Logic and Adobe Audition technologies. The studios are designed to support surround sound production and mix environments.
The Jack and Joan Strader Radio Center offers state-of-the-art radio production facilities for the student-run internet radio station and media organization, Bearcast Media. The Bearcast facilities includes 4K digital cinema cameras, lights, audio equipment and a high end computer workstation for Adobe video audio and web site development tools.
The Avid Media Composer/Adobe Creative Suite 4K Postproduction Lab. Since 1996, Media Production students have been using Avid Media Composer, the industry leader in professional editing software used in major production markets like LA and NYC and in edit suites around the country and internationally. In addition to the Avid Media Composer and Adobe Creative Suite software, the fully 4K capable editing facilities include the Avid Artist DNxIQ hardware and run on iMac Retina 5K 27" 4.2 Ghz i7 Quad Core  computer workstation along with color calibrated BenQ EL2870U 28 inch 4K HDR10 Editing Interface Monitors and BenQ EW3270U 32" 4K HDR Full Screen Editing Monitors.
The Judith and Jim Van Cleave Multimedia Laboratory offers Media Production students access to the latest computer hardware and software, including the Adobe Creative Suite, used by today's media professionals, maintained and updated periodically by CCM's IT department.
Media Production students take Film and Television Production during their second year in the program. They will find the staff in the production office to be important to their success in that course and beyond.
Kenneth Dale Allen is our production manager. A member of the Media Production class of 2006, Allen is also remote production specialist at ICRC-TV and is owner of Kenneth Allen photograpy.
Allen and his team of student workers assist in administering camera and system hookup tests, unlocking facilities, checking out and checking in equipment for students, and troubleshooting equipment and software problems.
The Media Production Office is located in Mary Emery room 3200 and is open from 9 a.m.-5 p.m. Monday through Friday. The checkout desk number is 513-556-9296.
Although some Media Production students have their own digital cameras and production equipment, the Media Production Office allows students to check out cameras and other production equipment. Its team of staff and student workers exists to train students on how to use and respect the equipment that our industry uses to make creative and commercial works.

Students must be in a production class in order to check out a camera from the Media Production Office. If you are not enrolled in a production class, you can check out a camera from UC's Langsam Library.

There's a list of equipment available to students according to the courses they're enrolled in.
A large number of new digital cameras have been purchased recently. Other available equipment includes tripods, ARRI and LED light kits, microphones, and a dolly and track for camera movement.
Students come to the office in 3200 MEH and request the equipment they would like to borrow 24 hours in advance. If it's your first time checking out a particular piece of equipment, you'll have to take a simple camera and/or system test to make sure you know how to properly utilize the equipment.
You'll also sign a form stating that if any equipment is lost or broken, you will be held responsible.
Equipment is checked out for 24 hours at a time, with the exception of weekends, in which students are encouraged to work together with their classmates to ensure that everyone can get what they need.
When a professor gives an assignment,  there is always a rush of students trying to complete it the last couple of days before it's due ... so don't procrastinate or you may discover that all of the Media Production Office's cameras are already checked out.

Students go to the Media Production Office to schedule time in editing bays. Hours for editing are Monday-Friday, 9 a.m.-5 p.m.
Students are always welcome to come to the office with production questions or to unlock facilities.