Hands-on learning is a must for a media future and CCM's Media Production program is designed to help you make the most of your college experience.
From internships and collaborative class projects to summer programs and student organizations, Media Production majors are provided with numerous opportunities to expand skill sets and digital portfolios as they strengthen their resumes and build professional connections.
In recent years, Media Production students have traveled to Germany, Poland, Alaska and California to produce acclaimed documentary films and new media work that has been broadcast on national and international television networks and accepted in film festivals on five continents. Student work has won numerous student and professional awards including student and professional Emmy awards, and their films have been selected to prestigious film festivals on five continents.
Media Production connects faculty, staff and students with UC Athletics to produce live, multi-camera coverage of UC Athletic events for ESPN's new subscription based streaming service, ESPN+.
During the 2019-20 academic year, CCM Dean Stanley Romanstein, Media Production Division Head Kevin Burke and Professor John Owens worked with the UC Athletic Department to create classes in Sports Media. The college hired Emmy Award-winning videographer Joe Brackman as a new faculty member to teach the classes in Sports Media Production, as part of the Media Production Division's track based curriculum in Film and Television Production, Broadcast Media Production and Multimedia Production.
By integrating this initiative into its curriculum, the Division of Media Production is creating valuable learning opportunities for its students in the ever-expanding field of sports media production. This field overlaps with other areas in the Division, such as documentary production, on-camera talent development, cinematography, editing, audio and, of course, producing and directing. It also connects with our student media organization, Bearcast. The opportunity for E-Media students to produce content that is delivered via an ESPN network will look great on resumes and boost the quality of their digital portfolios.
In 2019, the American Athletic Conference and ESPN agreed to a media rights extension which mandated the production of AAC sporting events for ESPN+, including football, men's and women's basketball and a range of other sports including baseball, women's lacrosse, men's and women's soccer, softball and volleyball, cross country, golf, indoor and outdoor track & field, soccer, swimming & diving and tennis. All ESPN+ events will be accessible to fans alongside live streamed events from ESPN networks and other related video on the ESPN App, providing a one-stop destination to view conference events as part of any ESPN+ subscription.
Budding TV news and video journalists need look no further to get a personalized degree toward your dream job. Broadcast news production in E-Media is taught in the Broadcast Media Production track and it offers hands-on training from Emmy-Award winning current professionals. This program covers topics from field and studio production, writing and talent classes, through internships to your final destination jobs.
This track is also for people who want to create videos for corporations, nonprofits or their own web channels. We will teach you how to craft the best visual stories for a career limited only by your imagination. The skills we teach prepare our students for the future as media evolves, for the jobs that don't exist today but will tomorrow. We've created a combination of classes and we work individually with students to prepare the perfect reel with which they can launch into their careers.
Professor Hagit Limor is the lead faculty member on the BMP track. Professor Limor has an extensive professional career as a broadcast journalist, winning ten Emmy awards and serving as national president of the Society of Professional Journalists. She continues to produce award-winning news reports, specials and documentaries. Additional faculty in the BMP also have extensive professional broadcasting careers and bring that experience to the classroom. Broadcast Media Production graduates have landed jobs as reporters, anchors, producers, camera operators and assignment editors at television news outlets around the country, or running video content for companies and nonprofits. Many graduates have benefitted from the internships and professional connections provided by Professor Limor and the BMP faculty and are now working here in the Cincinnati and Dayton area, and around the United States.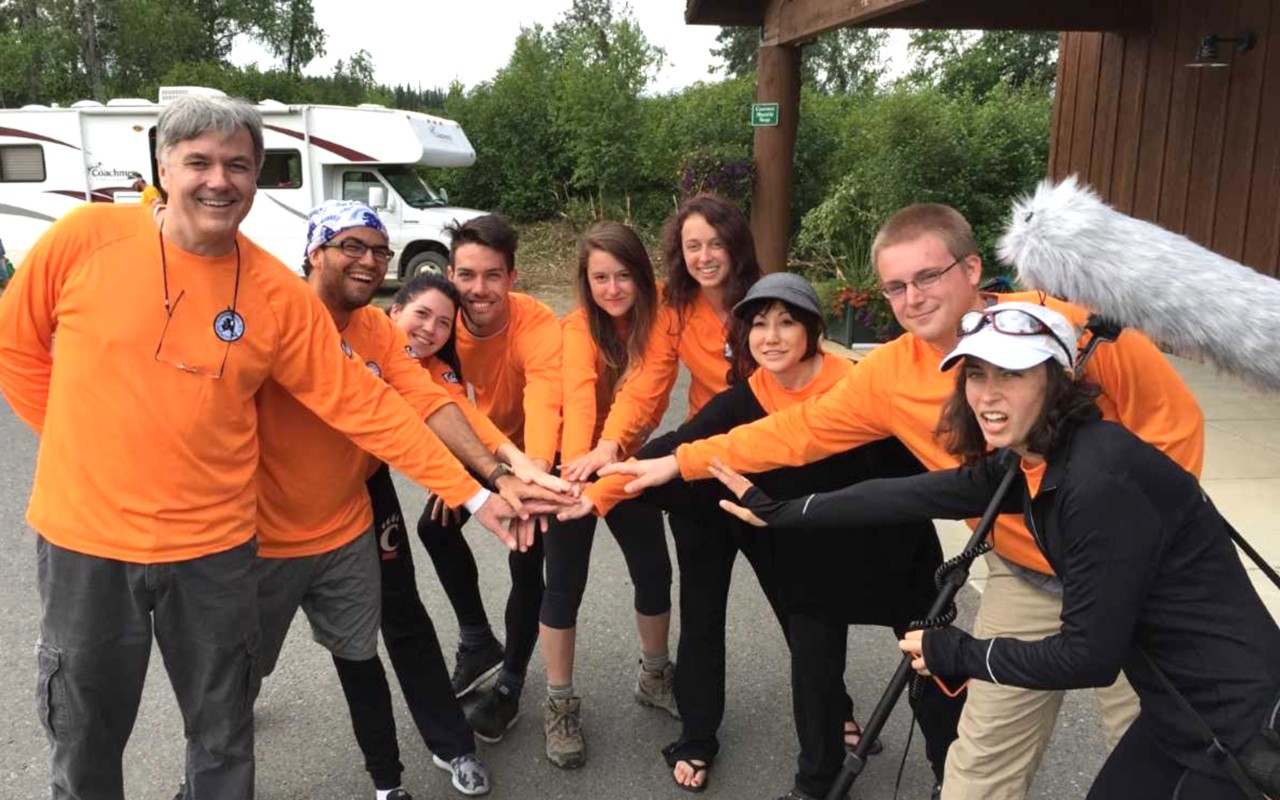 The Production Master Class (PMC) is an experiential learning initiative that fuses the expertise of faculty members and professional filmmakers who work with the students to produce professional film and television programs to create a transformative educational experience for all involved. The PMC is also an interdisciplinary Media Production course (EMED 4030) that has enabled over 40 students to travel from remote locations including California and Alaska to work on the production of each documentary. Since 2012, the experiential focus and interdisciplinary structure of the PMC has connected over 250 students and five faculty from 11 different academic programs at UC with a cadre of over two dozen award-winning, professional filmmakers who work with the students as they shoot, write and edit during all stages of the film's preproduction, production and postproduction stages.
The documentary films produced by the PMC have screened at more than two dozen film festivals on five continents and have been picked up for national and international television network distribution on beIN Sports America and beIN Sports Canada, French television network, TREK-TV, Italian network, The Bike Channel, and the Russian network, FirstHDTV. Three 90-minute documentaries aired nationally on NBC's Universal Sports Network in 2014-16. In 2019, the PMC documentary The Fifth Mode, which told the story of a dedicated team of engineering students at the University of Cincinnati that make it to the finals of Elon Musk's SpaceX Hyperloop Pod Competition, aired on multiple PBS stations in Ohio. PMC documentaries have received multiple professional and academic awards from the Broadcast Education Association, the University Film and Video Association, the Communicator Awards, the Telly Awards and Graphis Awards. In 2015, a PMC film was nominated for a professional Emmy Award in the Best Documentary category by the National Academy of Television Arts and Sciences, Ohio Valley Region. In 2016, a different PMC documentary was accepted into the New York City Drone Film Festival, where it was nominated for Best News/Documentary against films from NBC News, Good Morning America and the National Geographic Channel.
The CCM Film Lab began during the 2020-21 academic year as an interdisciplinary and cross-curricular initiative that connects the faculty and students of Media Production and Acting programs at CCM to produce and market films for distribution within and beyond CCM and UC.
The CCM Film Lab establishes an innovative, collaborative center focused on the film and television entertainment arts. The Media Production and Acting programs work together to produce short films that will be entered into award competitions and at film festivals, where students can meet with potential film and television studio distributors. These films are also used as portfolio works to enhance opportunities for the students in their post-graduate careers and in promotional material for both programs, CCM and UC.
This innovative center has been designed to attract and retain top students interested in Directing and Acting for the Screen, and it provides these students with a clear focus as they cultivate their ideal futures in the rapidly changing film and television industry.
The CCM Idea Lab is a collaborative cross disciplinary class involving students and faculty from Theatre Design and Production (Sound, Lighting and Technical Direction), Acting, Musical Theatre, Voice and Media Production. The lab creates short multimedia projects exploring technical, artistic and philosophical questions.
Faculty and students collaborate on the series of safe, socially distanced performances that use a variety of technologies, including 360-degree cameras, in-ear monitors, live motion tracking and projection. Performance faculty direct students in short works of musical theatre, opera, dance and acting. Design and Technology faculty oversee the creation of remote and in-person spaces that met social distancing requirements by using specialized cameras, microphones, projectors and other technology. Professors and students from CCM Media Production shoot and edit the recordings of each work.
This new area in Media Production has been created in response to the popularity of podcasting as part of the rise in on-demand media consumption. In addition to being an entertainment outlet, podcasting is also an emerging marketing platform. Media production students analyze the aesthetics of podcasting through analysis and critique of  variety of podcast genres and enhance their skills in audio production by completing short, audio production assignments that lead to the creation of a pilot podcast episode.
Students in podcasting develop an understanding of the creative evolution of podcasting, its economic development, technical requirements and forms of Distribution.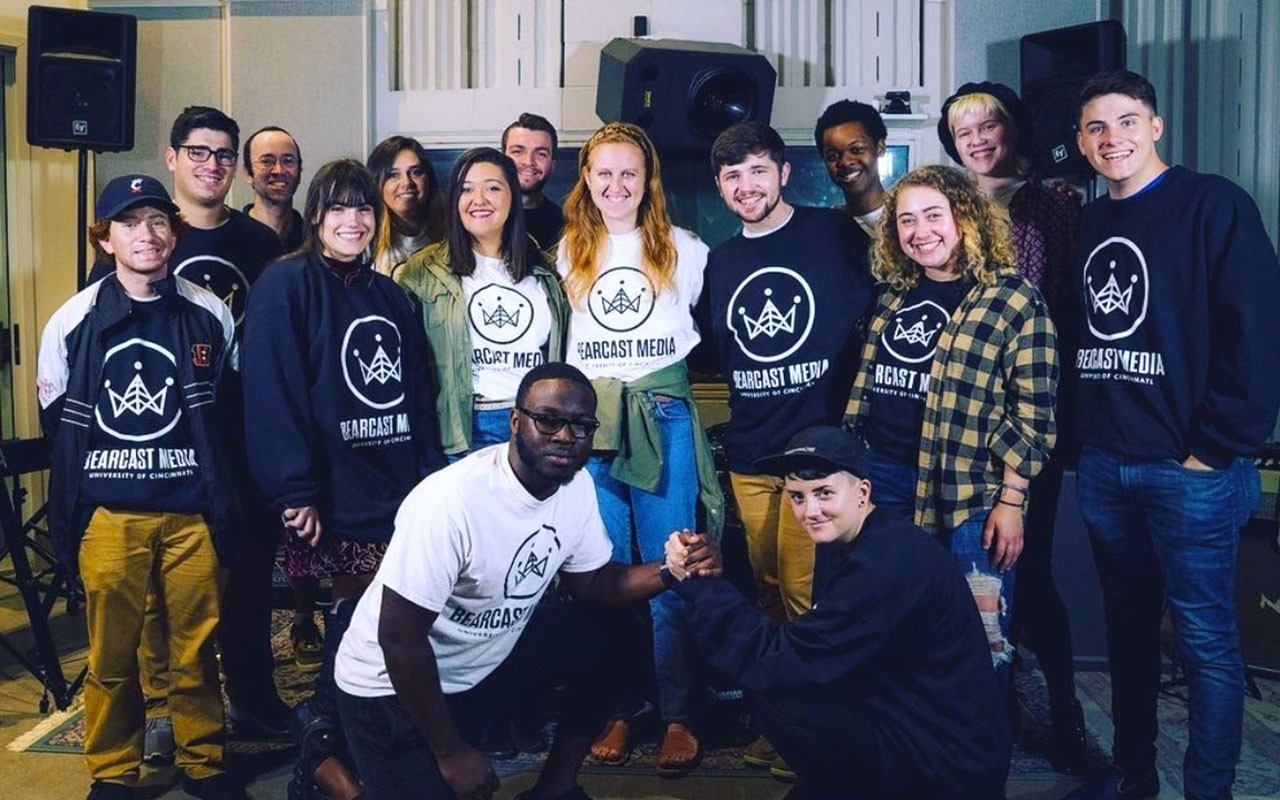 BearCast Media is an entirely student-run multimedia outlet located in the Media Production Division. It includes an internet radio station with dedicated videography and photography and journalism teams, and serves as host of the annual local music festival Live on Short Vine. BearCast provides the UC community and beyond with amazing content focused around music, sports and entertainment. Supported by the Division of E-Media, BearCast Media's state-of-the-art radio and production facilities are located in the heart of the division's expansive audio and film and television production studios and labs. Focused on the media entertainment industry and advised by Professor John Owens, Ph.D. (who also founded the station), BearCast is entirely run by students who take on the role of General Manager, Programming Director, Music Director, Promotions Director, Business Director, Sports Director, Social Media Director, and Video and Audio Director. As members of Bearcast, students gain practical, hands-on learning experiences and develop their media project portfolio, a necessary component for any student pursuing a career in the today's media industry. 
BearCast is a member of College Broadcasters, Inc., a national organization comprised of college and high school electronic media outlets that offers events, programs and a network of expertise to support its members and provide educational and professional opportunities.
Media Production students can earn credit enrolling in Student Media Practicum: BearCast (EMED 2015). In addition to creating audio and video content to promote the station and its sponsored events, a popular component of Bearcast Media is Queen City Sessions, which features the work of regional and national musical acts by providing recording sessions in the Media Production Division's recording studios while filming the session and creating a music video of the band for promotions and distribution on the Bearcast Media YouTube site. Recent music videos have garnered regional and national awards at the College Broadcasters Production Awards competition.
Bearcast Media offers students a great opportunity for a portfolio and work opportunities such as:
Audio Engineer
Promotions
Broadcast Management and Programming
Graphic Designer
Sports Media
Broadcast Journalist
Radio DJ
Cinematographer
Photographer
Web Design/Developer
Many Media Production students regard their internships as the most exciting and beneficial parts of their education since most media employers see an internship as an essential component of a job applicant's experience. The Media Production curriculum includes two semesters of internship (six credit hours), Internship I (EMED 4000) or Internship II (EMED 4001), which should be taken during the senior year.
Media Production students intern with a variety of media-related organization in an area related to their curricular track and post-graduate career plans. These internships can be in the Cincinnati area (for students enrolled in other classes during the semester) or in markets across the country or internationally through programs like the Munich Summer Curriculum. Students are eligible for internships once they have completed their junior year or are given special permission by the Division Head. Interns earn three internship credits by working 10 hours a week over the 15-week semester.
Students should discuss their internship plans with their academic advisor, faculty advisor and/or the Division Head before finalizing internship plans with their participating internship organization. The next steps involve completing the Media Production Internship Application form, having their internship supervisor sign it, and then submitting it to the Division Head for a signature. Once this process is completed, students can register. This process must be completed before the first week of the semester of the internship.
Media Production students must prepare their resumes and digital portfolios before the internship application process begins. They work with their academic and faculty advisors to choose an internship. Our academic advisors and faculty connect with former students and professional contacts to locate meaningful internship opportunities (including our Media Marketing Fair), but it is ultimately the students themselves who will contact and apply for the internship as part of their professional development process, one that replicates the job search process they will undergo once they graduate. Internship supervisors submit a detailed internship assessment at the end of the academic term. That assessment is the primary basis for the student grade for the semester.
The integration of two different Internships into the required core curriculum has enabled many Media Production students to form industry connections that have led to that all-important first job. These prospective employers watch interns carefully and look for interns who have the right skills, but are also impressed by students who are dependable, eager to help, flexible and always willing to go the extra mile.
Many graduates of the Media Production Division go to work in the entertainment industry in Los Angeles, CA. Starting in summer 2024, the CCM Summer in LA program will provide MPRO students with the opportunity to work and live in the heart of the film and television industry in LA. There they can make connections with media professionals and begin their careers in the heart of the entertainment industry.
Students will live in LA, earn UC course credit, intern at LA-based media companies, and network with professionals, including an extensive network of CCM and UC alumni. CCM Summer in LA builds upon the Media Production Division's focus on experiential learning designed to provide students with the hands-on skills and digital portfolio necessary to transition successfully into the professional world. Media Production has an extensive and active network of award-winning alumni working in media positions in Cincinnati and throughout the US, in Atlanta, Chicago, Nashville, Austin, New York City and Los Angeles. For more information about CCM Summer in LA, please contact Media Production Program Coordinator, Pam Latham at lathampy@ucmail.uc.edu or 513-556-9488.
The Media Production program offers a selection of classes, both on campus and off, each summer semester. These courses provide students with the opportunity to advance in their areas of study and enroll in classes that may fill quickly during the regular academic year. These often include core classes such as Integrated Media Production I and II, Film and Television Production, Digital Audio Production and New Media I. They also include many advanced film production classes such as Lighting, Single Camera Production and Postproduction as well as advanced new media classes like Big Screen and Studio CCM. Students who are considering out-of-town, full-time internships are encouraged to sign up for either Internship I and Internship II during the summer semester. The Munich Summer Curriculum is a unique summer opportunity for students to travel to Munich, Germany while earning nine hours of course credit, including an internship with a German media organization. Incoming transfer students are urged to sign up for summer classes as well as advanced students who may enroll in unique upper level classes that are only offered in the summer. Incoming students who want to enroll in summer classes must pick up a form from CCM Admissions that allows them to register for classes. There are also opportunities for Media Production students and other non-majors to enroll in certain media production classes. This often involves contacting the course instructor for special permission to enroll.
One of the Division of Media Production's most popular summer programs is the long-running Munich Summer Curriculum: Digital Media. The MSC is offered through The Center for Internet Research and Media Integration (CIM) of Ludwig Maximilians University (LMU) in Munich, Germany, in partnership with the University of Cincinnati.
The MSC initiative was created by former E-Media Division Head and UC Professor Emeritus, Manfred K. Wolfram, Ph.D, who still oversees and attends the summer activities for all enrolled UC students. The Munich Summer Curriculum: Digital Media offers an innovative, challenging summer academy focused on Digital Media with course modules ranging from Media Technology, Media Management, Media Ethics, Media Theory and Communication Sciences to Media Informatics and Human Computer Interaction. The program finishes with a four-week internship at a German media company.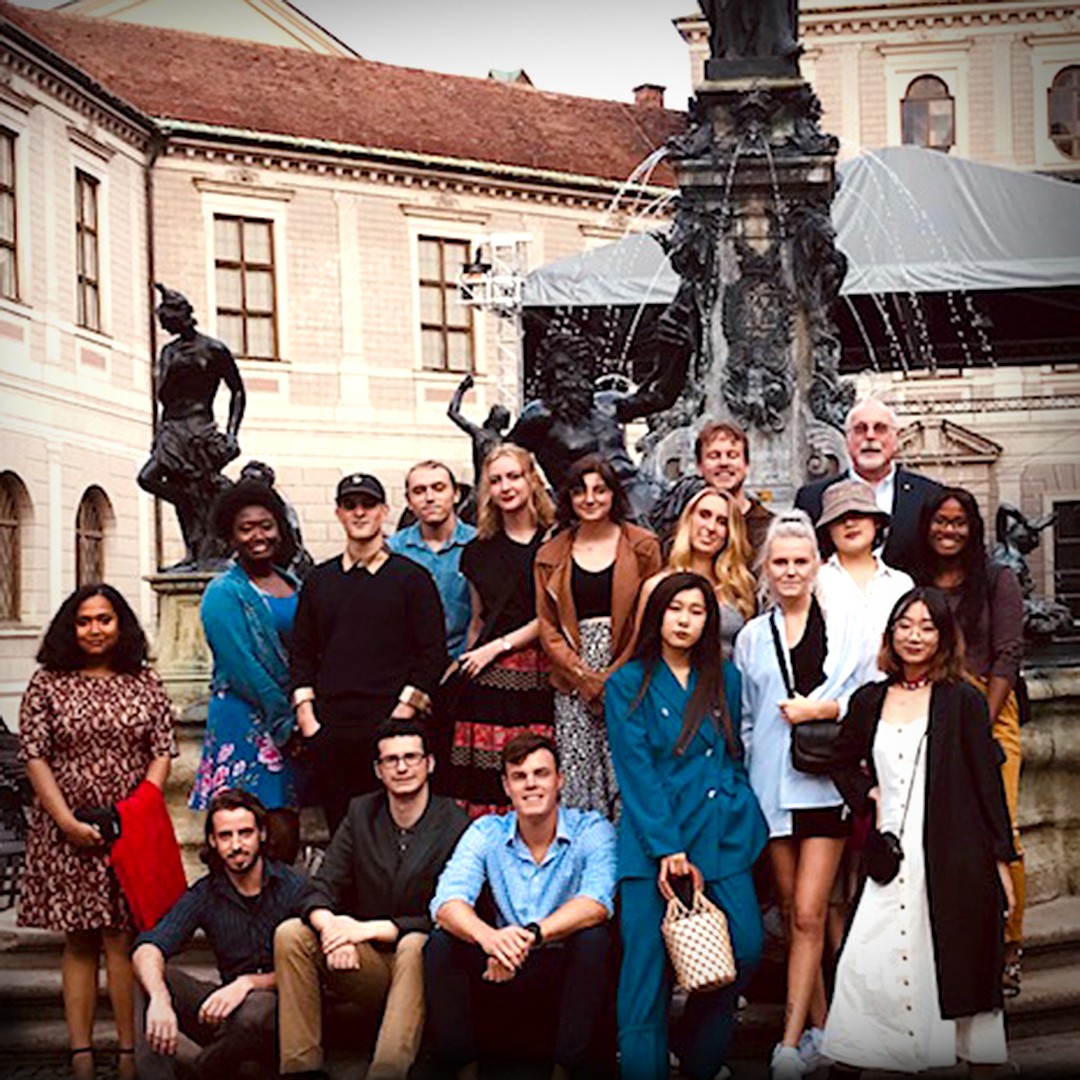 The program is sponsored by UC International's Study Abroad program, and UC International offers grants to alleviate costs for attending the MSC program as part of UC's Strategic Partnership Campaign. But more importantly, it adds academic and professional distinction to a student's portfolio and resume. Media Production students can earn up to six hours of semester credits while enjoying the culture and beauty of Munich, the Bavarian capital and a world-class city, known for its extraordinary, cultural attractions, its historical sites and its close proximity to the mountains. And, Munich is a major hub of Germany's media industry! "Survival" German language instruction and a cultural immersion program are an integral part of the curriculum. The program culminates in an Internship with a media organization in the Munich metroplex. The language of instruction is English.
Students from accredited academic institutions all over the world participate in the exciting and demanding MSC Summer Curriculum: Digital Media. Applications will be accepted beginning October 1st. For more information, please go to www.msc-misu.de
The Media Production Division's Excellence Awards is a celebration of our faculty, staff, students and alumni. Family, friends and alumni are invited to the annual event which is centered around recognizing outstanding Media Production student award winners and graduating class of seniors. Students award winners are recognized by faculty with scholarships, stipends, prestigious paid internships and our Outstanding Senior Award. Each year a different class of alumni is also invited and our Outstanding Alumni Award recipient is recognized for achievement and their commitment to the Division.