Performance Opportunities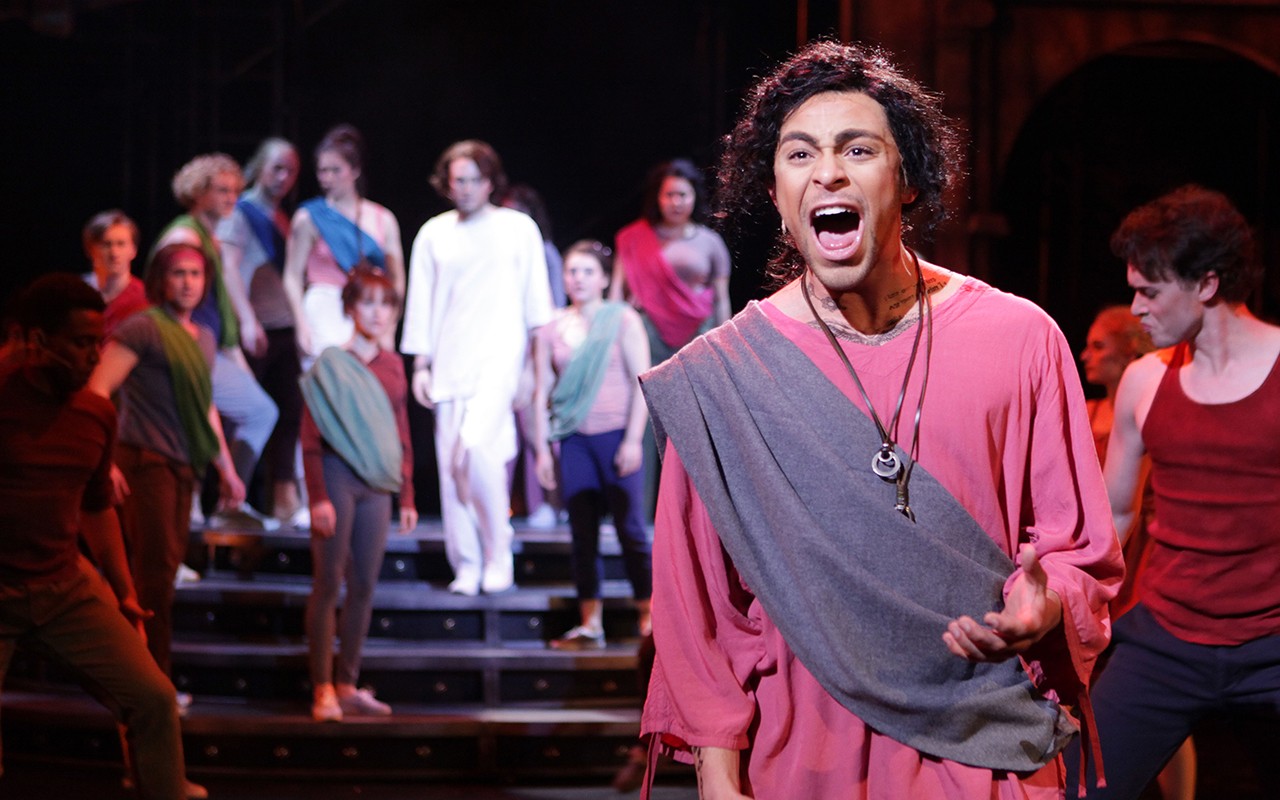 CCM presents an annual series of musicals in the three theaters that comprise the Corbett Center for the Performing Arts. The selection of repertoire plays an important educational role in our training, and students are exposed to every kind of musical during their residency at CCM.
In addition to our production season, we present two showcases each year: the Senior Showcase that performs in Cincinnati and New York and the Freshman Showcase in Cincinnati that marks the debut of the entering class for the year.

Performing in productions is an integral part of the Musical Theatre training program, an opportunity to put into practice what students have learned in the classrooms, dance studios and practice rooms. At CCM, the musicals on our main stages are part of a larger series that also offers plays, operas and dance programs to our loyal subscribers. These musicals are staged in Corbett Auditorium, a proscenium house, and the Patricia Corbett Theater, a modified thrust stage. In addition three workshop productions are mounted each season in the Cohen Family Studio Theater, a fully flexible "black-box" space.
It is our mission to expose our majors to every kind of musical during their four years in residence at CCM. Our seasons include works by the composers and lyricists of the "Golden Age" of musical theatre as well as challenging contemporary works and rock musicals. Dance styles encompass ballet, jazz, modern and tap. Majors are required to audition for all productions and all students, freshmen through senior, may be cast.

CCM's Department of Theatre Design and Production is responsible for the technical aspects of our productions. All designers are USITT certified and regularly maintain their professional connections as guest designers in sets, costumes, lighting, sound and make-up. Our musicals are backed by CCM's award-winning Philharmonia Orchestra and Jazz Band.
The productions presented in Corbett Auditorium and the Patricia Corbett Theater include a wide variety of styles. Our production philosophy is to expose our majors to every kind of musical work, from book shows to concept musicals, from shows that require tapping feet to those that prompt intellectual stimulation -- with an occasional area or world premiere thrown in for good measure.
Anything Goes
The Apple Tree
Assassins
Babes in Arms
The Baker's Wife
Big River
Cabaret
Candide
Carousel
Chess
Chicago
A Chorus Line

Evita



42nd Street
Guys and Dolls
Gypsy
Hair
The Hunchback of Notre Dame
Into the Woods
Joseph . . . Dreamcoat
Kiss Me, Kate
Lady, Be Good!
Little Me
The productions presented in the Cohen Family Studio Theater tend to be somewhat adventurous. They include such avant-garde pieces as "Myths and Hymns" or re-examinations of such classics as "110 in the Shade." Here we cast students in roles they may not normally play and schedule titles that may not fit our subscription series.
A...My Name is Alice
Bat Boy

Blood Brothers
Celebration
The Club
Company
Elegies
Falsettoland
Flora, the Red Menace
The Game of Love
Godspell
Hello Again
In Circles
Jaques Brel is Alive and Well

Lucky Stiff
Pacific Overtures
Rags
The Rocky Horror Show
Runaways

Side by Side by Sondheim
Side Show
Song & Dance
Under Construction
Urinetown

Yeast Nation
You're Gonna Love Tomorrow
The Wonder Years